In a two-day hybrid event held both virtually and in Viet Nam, Better Work launched its new strategy, Sustaining Impact, 2022-27 on 22-23 November 2022 alongside partners from the Vietnamese Ministry of Labour, Invalids and Social Affairs (MOLISA), social partners, the International Finance Corporation (IFC) and development partners, including the Swiss State Secretariat for Economic Affairs (SECO), partner brands and retailers as well as other national and global attendees.
The event focused on how Better Work's approach reflects our future vision for the global garment industry – and beyond – to create long-term, progressive change for workers and businesses that can be managed outside of the immediate scope of Better Work whether at the factory, sectoral, national or global level.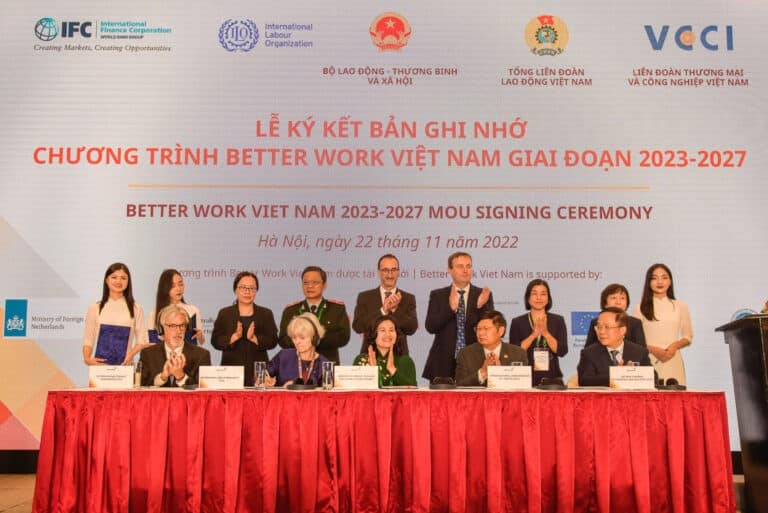 During a ceremony for the signature of Better Work Viet Nam's new Memorandum of Understanding (MoU) that kicked off the day's events, Ms Nguyen Thi Ha, Deputy Minister of MOLISA, stated "After 14 years of operation in Viet Nam, Better Work Programme activities are highly valued by the tripartite [government, workers and employers] partners as being consistent with the goals of labour management, and the programme has been actively supporting the process of promoting labour law enforcement in Viet Nam." Deputy Minister Ha noted "The coordination between the tripartite parties has contributed to promoting the effectiveness of the programme, thereby strengthening the relationship among the government's labour management agency, employers and employees to jointly build a harmonious and stable working environment."
At the national level, "Better Work Viet Nam has demonstrated how stronger social dialogue and gender equality at the workplace can be key drivers for improving working conditions and incomes for hundred thousand of workers in the garment and footwear industries.", said Ms Ingrid Christensen, Director, ILO Country Office for Viet Nam.
Day one featured two thematic panels – 'Resilience and recovery' looked back at the evidence of Better Work's impact over the past five years, presented the details of our global strategy for the next five years as well as Better Work Viet Nam's national strategy for 2023-27.
A continuation of the work that Better Work has been doing at the factory, country and global levels for the past 20 years, the strategy outlines eight thematic areas of focus that will anchor our work for the next five years. This includes a focus on business performance, data and evidence, environmental sustainability, gender equality and inclusion, occupational safety and health (OSH), social dialogue, social protection and wages. Better Work countries have established nationally specific versions of the strategy in collaboration with national tripartite partners.
At the end of his presentation of the new strategy, Better Work's Director, Dan Rees observed "We live in a time of profound change in the way work is organised and the way goods are made and sold. We face great uncertainties arising from the environmental crisis, economic, technological and demographic changes. But as we move forward our core values, those that are embodied in the vision of social justice and decent work for all, they will remain our constant and guiding star."
Panellists were in agreement that part of the solution to these global challenges lies in reinforced collaboration through initiatives like Better Work, with Payal Jain, the Head of Sustainability, Global Production for H&M Group adding, "We need to work towards holistic change, which means people need to be at the centre of driving this transformation to a circular, future industry. We need to make sure that we bring growth for people while reaching ambition for our net zero and circularity goals for the industry."
On the day's second panel, 'Sustainability and scope,' the panel's moderator, Amy Luinstra, Regional Lead, Gender and Economic Inclusion at IFC, emphasized "Better Work is something that works. We want it in more countries, more sectors and we want it for more time, but that might not always be feasible." Handing the discussion over to panelists, Luinstra asked "How do we scale Better Work without being everywhere all the time?"
Reflecting on her Government's longstanding support to Better Work, Valerie Berset Bircher, Head of International Labour Affairs, SECO said "Better Work has improved workplaces by decreasing working hours and staff turnover and increasing factory revenue, among others, which has been key to increasing sustainability and been truly evidence based – the impact is easy to understand". Berset Bircher went on to note that ensuring the scalability and sustainability of the Programme means that Better Work must remain at the heart of trade and labour agendas and take on an expanded role in upholding OSH as a new fundamental principal of the rights of work to continue to increase its involvement at the policy level. There was also a wide consensus about the importance of national and supply chain-level ownership of Better Work's approach and results as essential to ensuring long-term results. Day two provided in-person invitees with the opportunity to visit a Better Work partner factory, while virtual participants were able to view a 360 visit. This overview of factory operations was followed by a panel discussion on "Promoting gender equality for a sustainable garment industry, which highlighted the achievements and potential of the Gender Equality and Returns (GEAR) training, which is a joint initiative of the IFC and ILO delivered as part of Better Work's training and advisory services. GEAR aims to promote career progression opportunities for women working in the garment sector and is one example of how change can be promoted in the sector. Panellists, which included a GEAR trainee who shared her experience, were in agreement that investing in gender equality brings benefits not only to workers and businesses but also to the supply chains and brands.
From Target's perspective, "Brands are uniquely positioned to leverage their scale and size to create and lead systemic change in their own supply chains. Alongside other stakeholders, brands can use their scale to accelerate positive impact and improve social conditions at the industry level for workers in their supply chain," said Julie Nguyen, Director of Responsible Sourcing at Target. Nguyen and other panellists were also quick to emphasize the potential of public-private partnerships for bringing these results to a wider cross-section of the industry, including small and medium enterprises (SMEs).
As it enters this next phase, Better Work looks forward to continuing to engage with its global and national partners to ensure that our work supports long-term, progressive change.