15 February 2023 – More than 50 Better Work brand and retailer partners gathered in Paris and online to discuss the implications of human rights due diligence for business and the role of the Better Work Programme.
Due diligence is a process through which businesses identify, prevent, mitigate and account for how they address actual and potential adverse impacts of their operations and business relations on people and the planet. Recent and upcoming legislation on due diligence in the European Union and in individual countries mean that due diligence is now a legal requirement for many Better Work brand and retailer partners. Human rights due diligence frameworks typically include the International Labour Organization (ILO)'s Fundamental Principles and Rights at Work among the internationally recognized human rights that businesses should respect.
Speakers – Cyril Cosme, Head of Office ILO Paris, Dan Rees, Branch Chief Better Work, ILO and Payal Jain, Head of Social Impact, H&M Group, Europe and Asia-Pacific Buyer Representative to the Better Work Advisory Committee– set the scene. Explaining where due-diligence fits within Better Work's Strategy, Sustaining Impact, 2022-27 they highlighted the importance of Better Work's tripartite structure and alignment with the ILO's Decent Work Country Programme strategies as a way to provide insight to business.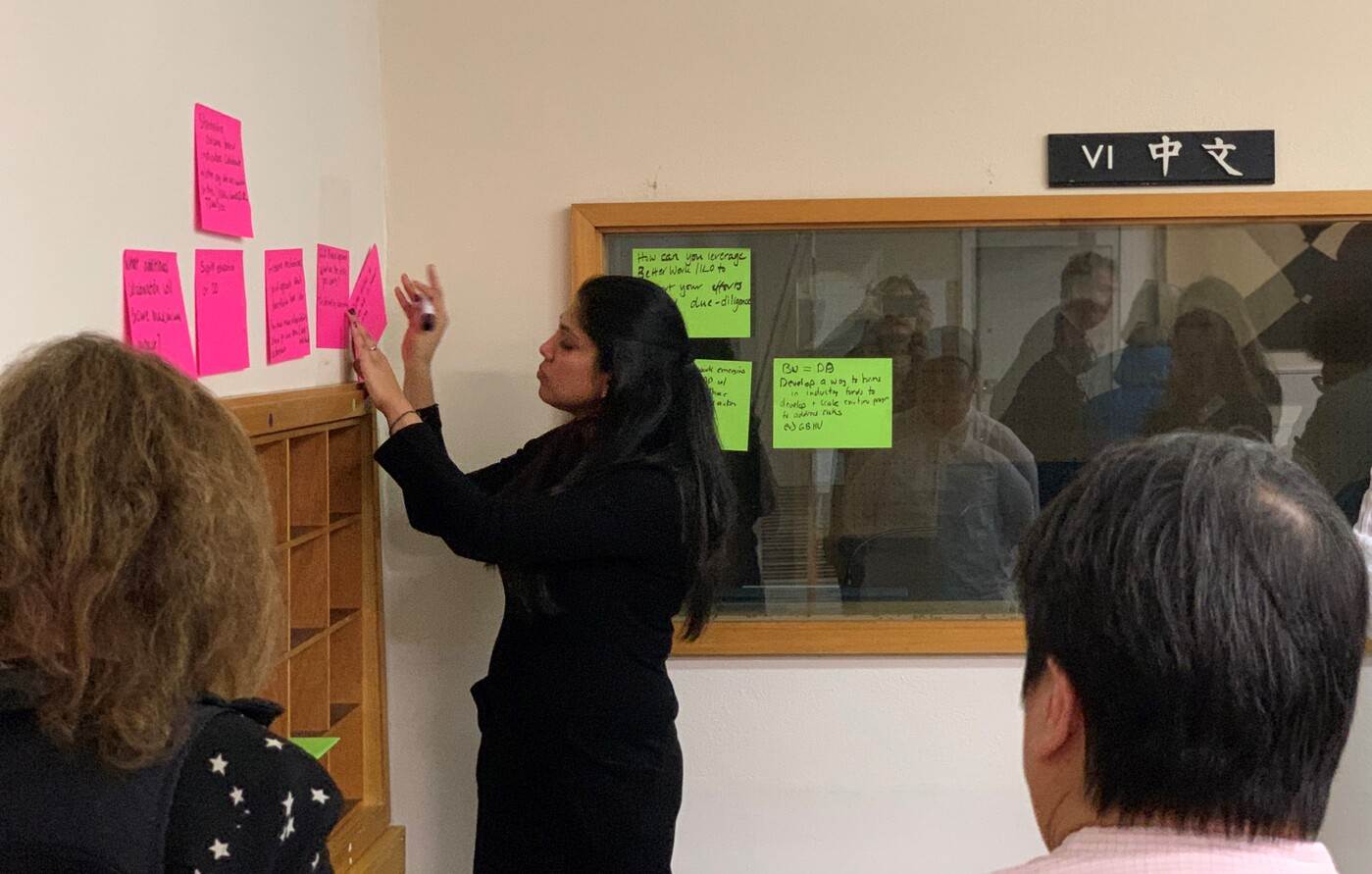 Representatives from Better Work partner brands and retailers used the second session to discuss the challenges, opportunities and the impact of preparing for due diligence requirements. Highlighting the potential of due diligence legislation to accelerate on-going work, one Better Work partner noted that it started the most recent chapter of its "due diligence journey by looking specifically at corporate operations responsibilities that needed to be met and identifying how to create a systematic approach to reporting on risk for both environmental sustainability and human rights." The partner emphasized "Legislation has elevated the conversation."
Another brand representative highlighted that due diligence legislation "presents an opportunity for business to approach meeting due diligence requirements collaboratively."
Better Work leadership discussed the third goal of our strategy, Sustaining Impact, 2022-27, which aims to ensure that all Better Work brand and retailer partners adopt policies and practices on responsible business conduct that support the realization of decent work. Brands and retailers shared their own thoughts about how Better Work can support their efforts to adhere to new due diligence requirements.
Roopa Nair, Head of Better Work Operations, ILO talked about Better Work's forward-looking approach to partnership. "A key part of our strategy is to take what we do well and scale it through others – either through ILO programmes in other countries or to other sectors."
On the potential of partnership, one partner observed that "we see that partnership with Better Work helps us to think about how we can use our resources better, particularly thanks to the ILO's tripartite structure. "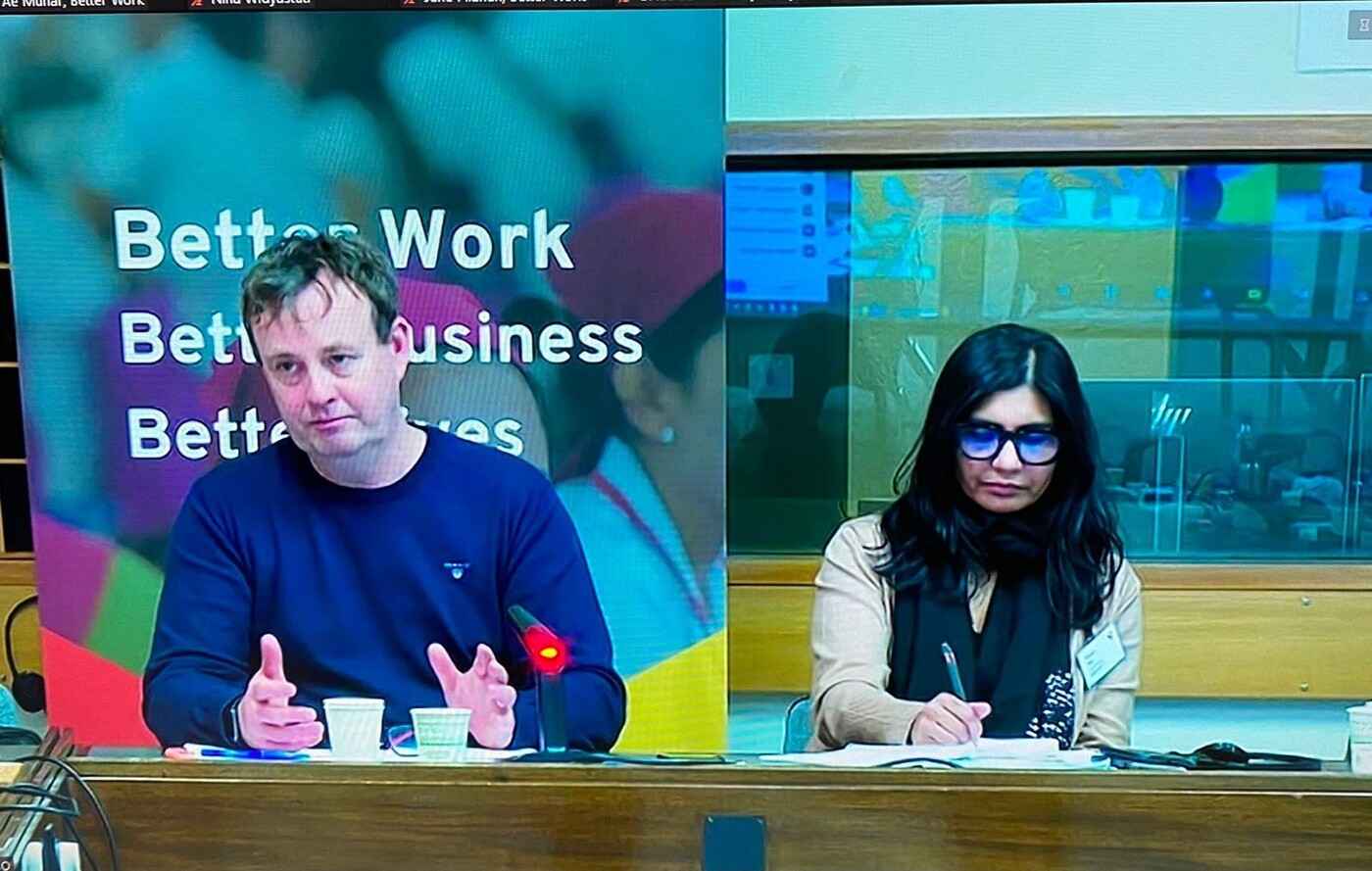 The meeting coincided with the Organisation of Economic Cooperation and Development's (OECD) Forum on Due Diligence in the Garment and Footwear Sector (16-17 February 2023). ILO officials Patrick Belser, Senior Economist, and Githa Roelans, Head, Multinational Enterprises Unit, participated in plenary discussions of the Forum. Belser's intervention during the session on Closing living wage gaps in garment supply chains highlighted the ILO brief, Setting adequate wages: The question of living wages. Roelans addressed Worker engagement and the role of trade unions in due diligence.
Due diligence expectations are included in the key international frameworks: (i) the ILO Tripartite Declaration of Principles concerning Multinational Enterprises and Social Policy (MNE Declaration); (ii) the United Nations Guiding Principles on Business and Human Rights and (iii) the OECD Guidelines for Multinational Enterprises. All three of these international frameworks reference the ILO Core Conventions. The ILO's MNE Declaration is the only framework negotiated and adopted by governments, employers and workers organizations with the aim to encourage the positive contribution of business to decent work and inclusive economic growth and to address adverse impacts.
Dans Rees, Branch Chief of Better Work, ILO noted "From soft to hard laws, due diligence is an important development for the ILO because these instruments are based on the ILO's standards. It is about the realization of international labour standards and a way to promote the ownership of ILO's standards within the business community."