Living with disability can make finding decent work difficult, but some garment factories in Vietnam have understood that, with a few adjustments, recruiting people with disabilities can be good for business
1 December 2014.
Dong Nai , Vietnam – 24 year old Tran Thi Trinh refuses to be defined by labels or stereotypes. A wheelchair user she is also a mother, daughter, wife and factory worker.
At 18, Trinh left her hometown Tien Giang after having difficulties finding work there, due to her disability. She successfully sought work in the privately owned garment factories of Ho Chi Minh City, where she remained for four years. Trinh says that these "years of independence" gave her confidence but that she also experienced discrimination.
"I became aware of various different types of discrimination against my disability," Trinh says.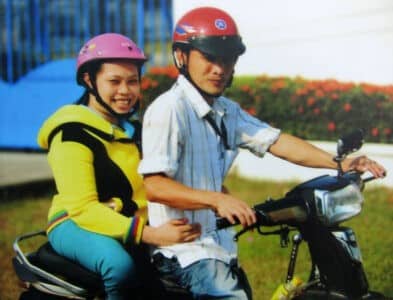 "To us (wheelchair users), the most hurtful thing is people's attitude and behaviour. They often talk of disabled people in a particular voice. They look down on us when we sit down to have a rest during working hours. They think our productivity is always low and that it is bringing down the targets of the whole team.  Sometimes, they are even jealous of us being given more kind treatment by management."
Trinh moved on to work for a disabled handicraft organization where she met the man that she would go on to marry in 2011, Lam Van Tam.
"We are from the same hometown and also share the same life aspirations," she says of her husband. Together, they moved to Dong Nai and Trinh was employed at the Unipax garment factory where she is preparation worker for cap sewing. "Amongst different garment factories in Amata IZ (Industrial Zone), I chose Unipax because its workshop allowed me to commute easily."
Unipax was also a good choice for Trinh because the factory improved accessibility for her.
"I move around easily in this factory. The restroom is located right in the workshop, and has wide-enough access so that I can drive the whole chair inside. The factory has also installed an extra metal sliding bridge for me to get access to the canteen," she says.
"Until 2013, factories were required by the Vietnamese labour code to hire people with disabilities. This requirement has since been dropped but we still see a small, yet growing number of factories that are finding ways to actively recruit people with disabilities; looking to their capabilities, loyalty and work ethic. We are encouraged that Unipax is one such factory which intends to keep hiring PWDs," says David Williams, Technical Officer, Better Work Vietnam.
Trinh also finds that her colleagues at Unipax are progressive and understand that her disability does not limit her capability.
"My colleagues have been very helpful and kind to me. They help by getting drinking water and pushing my chair when I need help. My team leader coaches and encourages me towards my targets," she says.
The appeal of Unipax is such that Trinh has inspired her husband to take on a job there.
"I have told him about the constructive working atmosphere, the kind support of management and the sincere friendship of colleagues. He also wants to be part of the team," she says.
Every day they come to the factory by her husband Tam's motorbike. They have a 1-year old daughter, Lam Khanh Vy who is learning to walk, and is looked after by Trinh's mother while her parents work.
Employers are obliged under the law to make adaptations to equipment and facilities to accommodate employees with disabilities. Through Better Work Vietnam's advisory work, some factories have made adjustments to machinery to improve work stations for people with specific disabilities. For example, on sewing machines, the start-up function of the feet pedals has been replaced by hand motions so they can be operated by workers with leg and feet disabilities. The programme has also worked with a disability focused NGO, DRD to educate factories on the merits of employing people with disabilities.
Trinh is proud of all that she has managed to achieve. "I have been so happy to give small remittances to my mother occasionally. I still owe her a lot though, as she has sacrificed so much for me since childhood until now," she says.
From Trinh's perspective, her drive is not limited by her chair. She is ambitious for her and her family's future and hopes they can buy their own apartment or house within a few years.
Trinh says that the key to her progress has been the respect that others have shown her and that she has been independent: "I would advise my disabled friends to live on their own and try to show the best of their capacity to potential employers," she says.