HAI DUONG PROVINCE, Viet Nam, 29 June 2023 – A delegation from the National Council and Federal Assembly of Switzerland, led by President Martin Candinas, visited Better Work Viet Nam participating factory Regent Garment Factory Ltd. The Swiss delegation visited the factory in Hai Duong province to better understand the impacts of the programme on the factory floor and discuss how the factory balances green initiatives with labour standard compliance.
Mr. Candinas was joined by nearly 20 representatives of the Swiss government, including Mr. Thomas Gass, Ambassador of the Switzerland in Viet Nam, Mr. Eric Nussbaumer, First Vice President of the National Council of Switzerland, Ms. Maja Riniker, Second Vice President of the National Council of Switzerland, and Ms. Natalie Rast, Head of the Asia/Oceania Division, among other officials. Switzerland has been a key donor of the Better Work Viet Nam programme since 2009, which focuses on strengthening the competitiveness of the garment sector in Viet Nam while improving working conditions at the factory level and policy at the national and sectoral levels. This aligns with Switzerland's goal of providing developmental support to promote Viet Nam's economic growth, job creation and poverty reduction.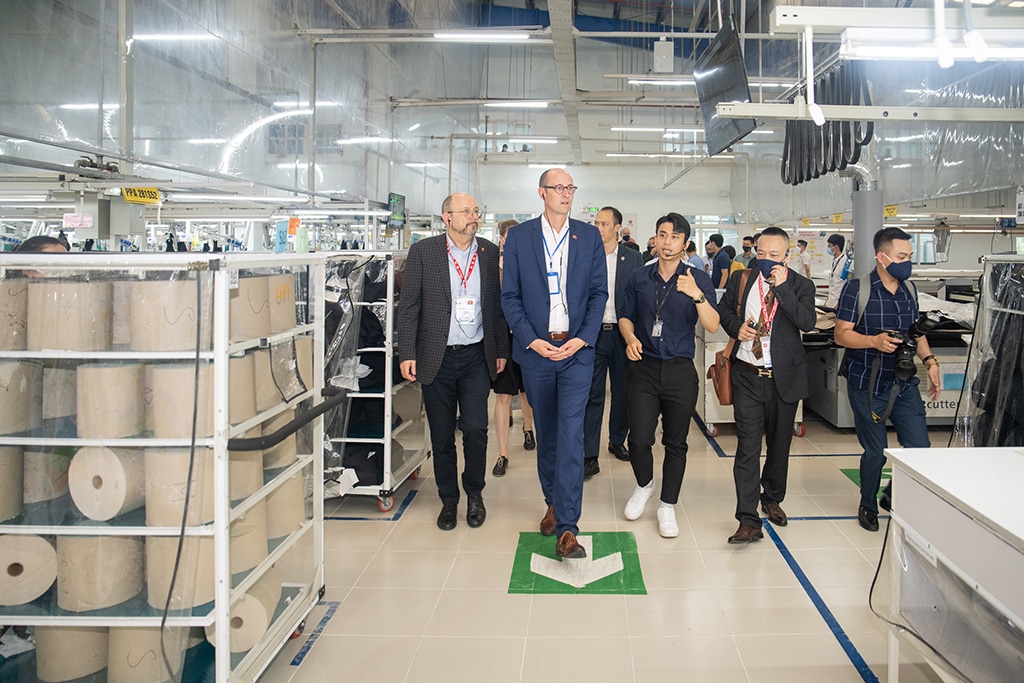 The factory visit offered the delegation an opportunity to see the results of their developmental support on the ground. Regent Garment Factory Ltd, a subsidiary of Crystal International Group Limited, joined Better Work in 2014. The factory currently employs approximately 15,500 workers, of which 75% are women. Since 2019, the factory has been recognized by Better Work as a "High Performing Factory," which indicates not only a high level of compliance with national labour laws and international labour standards, but also the factory's strong commitment to social dialogue, effective management systems and learning. Mr. Richard Chin, Vice President of Regent Garment Factory Ltd, welcomed the delegation, sharing the factory's development progress and highlighting some significant milestones towards environmental sustainability.
With Better Work's facilitation, Regent has made strides on key issues including gender equality, corporate social responsibility, and improved compliance with national laws and international core labour standards. In particular, the factory has focused on making itself a welcoming workplace for women by drafting and implementing gender-sensitive policies, introducing training programs promoting gender equality, and raising workers' awareness of sexual harassment prevention in the workplace. Mr. Candinas queried about if there were salary differences between men and women workers; he said Switzerland has a strong view on equal pay for jobs of equal value. In response, Mr. Chin shared his agreement: "There is no difference between men and women [in compensation]."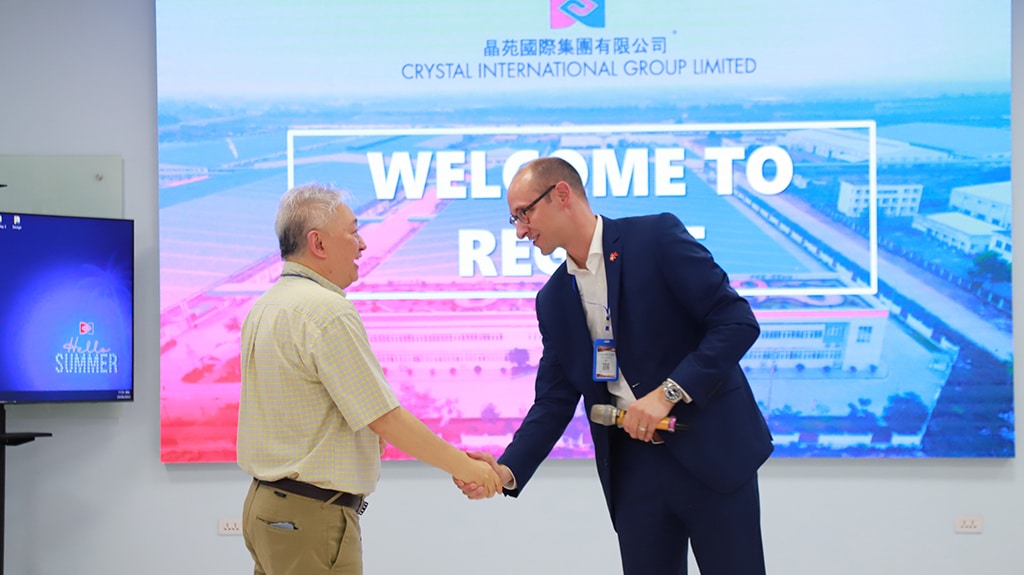 The factory representatives also shared progress on sustainable production. Examples of their green production initiatives include a biomass boiler, as well as increased automation, such as robot arms for auto printing, tagging, folding and bagging, and an auto elastic joining machine to ensure maximum accuracy, improve production efficiency and minimize human effort. The Swiss delegation, factory management, and trade union representatives met to discuss the factory's approach to environmental sustainability and their challenges. These include prioritizing job security and upskilling in the face of increased automation, achieving the ambitious goal of net zero emissions, and ensuring higher levels of compliance with environmental and social standards.
"In the garment-making industry, it is about people, not machines. We care, we love, and grow together, and if we don't know how to treat our people, there will be no industry," said Regent VP Richard Chin.
Echoing the factory's messages, Ms Nguyen Hong Ha, the Programme Manager of Better Work Viet Nam, highlighted the programme's key priorities for the next five years, with a focus on strengthening the programme's sustainable impacts on the public-private partnerships.
"We will continue to work with factories and manufacturing groups like Crystal Group, so that they will influence other factories in the supply chain and facilitate positive spillover effects in the sector," Nguyen said. "We will also focus on gradually transferring more ownership of the factory-level engagement and building the capacity of our national partners. As a result, the partners will provide greater support to the factories and workers. This is our ongoing strategy in this critical period, so it is crucial that we gain continued support from Switzerland, and other key development partners to achieve these goals."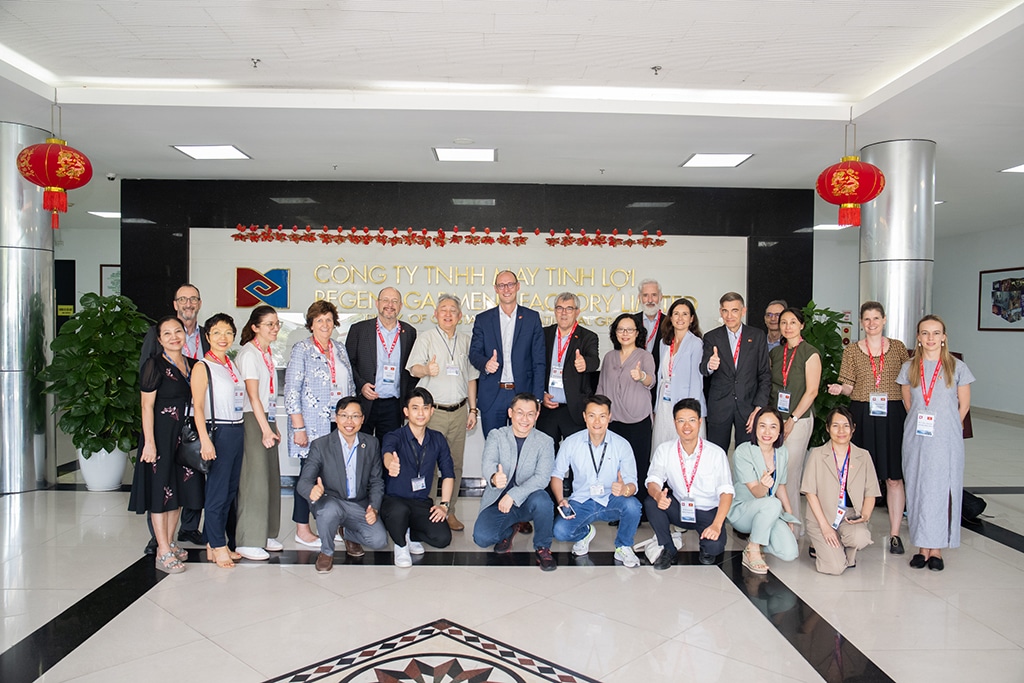 Speaking at the end of the visit, the delegates commended the Regent factory representation for their achievements and reaffirmed their shared commitment to promote health, safety and well-being for workers. Mr. Candinas also praised Better Work for results at the factory level, and he concluded the visit with comments on the "great collaboration between the factory and Better Work programme." He continued: "With a fast growing market like Viet Nam, we consider the garment sector very important, and Switzerland will provide continued support to bring better working conditions for the employees."