HANOI, VIETNAM, 28 February 2022 – Key stakeholders in Vietnam's garment industry met to come to common solutions for the considerable impact the COVID-19 pandemic has had on the country's workforce. According to the Vietnam General Statistic office data, 1.4 million people were unemployed at the end of 2021, which is an increase of 203,700 people since 2020. The unemployment rate for those of working age in Vietnam is 3.22 per cent, which is a 0.54 per cent increase over the previous year. Further, 16.5 per cent of people aged 15 and over have reported having lost their jobs, while 51 per cent have temporarily quit their jobs, and 67.2 per cent have reduced incomes. At a staggering 65 per cent, the workforce participation rate in the country is at the lowest level ever over the past 10 years.
To support businesses and employees to better adapt to the impact of the COVID-19, Better Work Vietnam cooperated with the Vietnam Chamber of Commerce and Industry (VCCI) to hold a stakeholders consultative meeting with the topic: "Collaborative efforts to support factories and workers to safely recover and adapt to COVID-19." The event was attended by key industry stakeholders, including Mr. Hoang Quang Phong (v), Ms. Tran Thi Lan Anh (General Secretary of VCCI), Ms. Nguyen Thi Hong Diep (Deputy Chief Inspector, Ministry of Labor – Invalids and Social Affairs), Ms. Ho Thi Kim Ngan (Deputy Head of Labour Relations Department, Vietnam General Confederation of Labor), Mr. Dan Rees (Director of Better Work), Ms. Nguyen Hong Ha (Director of Better Work Vietnam), along with guest speakers and other representatives from local businesses and partners, domestic and international brands. Held both onsite and virtually, the event attracted the participation of more than 100 factories. This was an opportunity for Better Work Vietnam's key partners, brands, and factories to discuss and consider measures to support factories and workers to recover and safely return to production. Each party will outline their next steps to promote the sustainability and resilience of the textile, garment and footwear industry in Vietnam.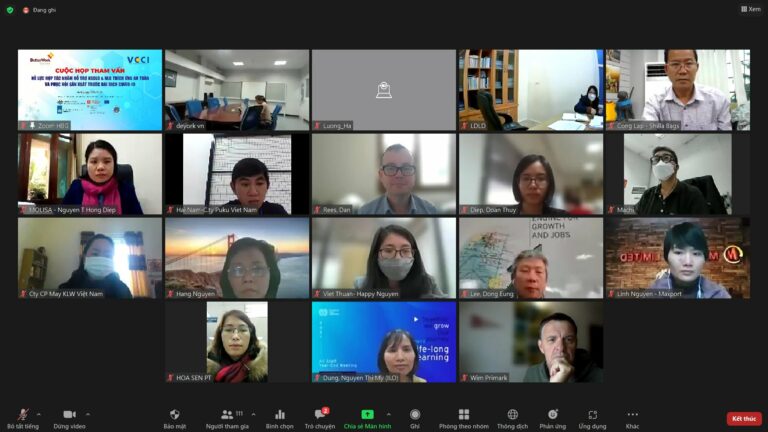 Delivering the opening remarks, Mr. Dan Rees presented highlights related to the impact of COVID-19 on the export market and employment, and the resulting impact on workers. He also emphasized that women have been disproportionately affected, further exacerbating existing inequalities, and that the pandemic is accelerating the trend towards consolidation and market concentration. This will likely have a dual impact on workers: creating the risk of driving down wages and working conditions, and expanding subcontracting of orders, which could lead to poorer job quality. Nonetheless, Rees ended on a note of optimism:
"At Better Work, we have many years of experience to understand measures to promote better working conditions and greater equality between women and men, while also delivering key business benefits, such as improvements in productivity," he said. "The pandemic is challenging, but it also provides opportunities to overhaul industrial policy strategies and rethink the global garment industry in a way that leaves no one behind. I urge that we work together for a better, fairer and more sustainable industry."
After discussions, the panelists, guest speakers and various representatives suggested solutions to support a safe return to work and adapt a sustainable "new normal" in Vietnam. All parties emphasized that priority should be placed on accelerating the progress to promote a more responsible and resilient textile, garment and footwear industry, including inequality reduction, and sustainable development, for a stronger response to future crises.
"Over the past few years, we are very happy to see that the cooperation with Better Work and VCCI has led to many positive impacts on supporting garment, textile and footwear factories to overcome the difficulties and safely adapt to COVID-19," said Mr. Hoang Quang Phong, Vice Chairman of VCCI. "This consultation meeting opens discussions on suggestions and considerations for stronger cooperation among government ministries and agencies, organizations and businesses, to provide timely support to Vietnam's garment industry. Thus, they can become more resilient in coping with the difficulties and contributing to Vietnam's economic and social growth."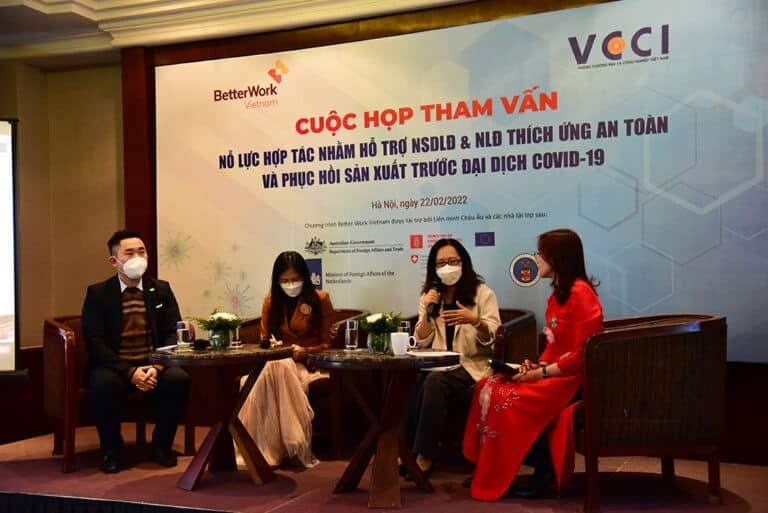 Upon final discussion, all parties agreed to take steps to minimize the impacts of the pandemic to the factories and workers and prevent the cash flow disruption by proposing various proposals to the Government, such as taxes and fees reduction, temporary insurance and trade union fee suspension. Stakeholders also encouraged factories to be more proactive to avoid supply chain disruption, improve their capacity and skills, strengthen coordination between public and private sectors, and enhance social dialogue. These recommendations also extended to global brands, who stakeholders advised to consider delivery time expansion and no penalties for late delivery, to help business during this critical period. In the long-term, VCCI and Better Work, together with other government agencies, local and international brands, and factories will contribute to the development strategy of Vietnam's garment, textile and footwear industry. The ultimate shared aim is to review and cut down on procedures that cause barriers for businesses, build trust among partners, and harmonize benefits among relevant parties.
The first step in that direction is working together to improve the employment situation and promoted decent work.