Mitu is a 24-year-old line supervisor from Bangladesh. She started her career several years ago, working as a machine operator in a garment factory. Last year, Mitu decided to join a Better Work-run training programme designed to support women in their career growth across the sector. Since then, Mitu says, her life and career have changed.
"I never thought of becoming a supervisor and operate a line in my life, but I eventually did it. Now, I can easily lead a production line of 25 workers, who are mostly women," Mitu says. "It's unusual for female workers to develop their innovation and technological skills in our country."
New technologies and automation are fundamentally transforming industries across the globe, including apparel and footwear, aiming to improve efficiency, productivity and environmental sustainability at the factory level.  Although women workers have been at the forefront of the RMG workforce in Bangladesh, in recent years, there has been a decrease in their proportion, with women also having less access to getting technical skills and training in Bangladesh. The garment industry accounts for 80 percent of Dhaka's total export earnings, and Bangladesh is one of the countries where the shift to new technologies across the factory floor has started. The question of whether workers are at risk of losing their jobs has become crucial, especially for female workers like Mitu, who historically have had limited access to training and upskilling in the country.
For this reason, Better Work Bangladesh expanded the Gender Equality and Returns (GEAR) initiative Mitu recently participated in, including new automation upskilling modules for its female trainees. GEAR, a programme developed by the International Finance Corporation (IFC), builds on the programme's traditional supervisory skills training that helps facilitate women's access to better jobs. While women comprise approximately 80% of the workforce according to the Bangladesh Garment Manufacturers and Exporters Association, they are less likely to hold management positions. Better Work has worked with industry partners to address this disparity and the overall vulnerability of employment in light of automation.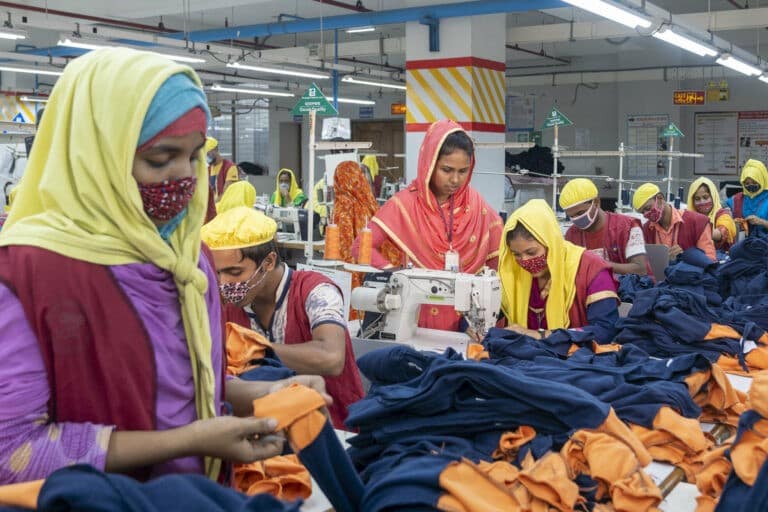 "The question of whether and how new technologies, and in particular automation and the use of robotics, may impact garment sector employment, is central to our mission and to our ability to provide policy advice on this topic to industry stakeholders across different geographies," says Better Work Director Dan Rees.
Better Work Bangladesh, in collaboration with Shimmy Technologies and the Center for Global Development, conducted research between August 2020 and January 2021 to help the industry reach a consensus on the rate of automation in the garment sector and the workforce impacts that will result in the country, especially on women. Carried out in 30 Better Work Bangladesh partner factories, preliminary findings of the Apparel Automation Pulse project show that the use of machines is still not improving productivity dramatically, and thus is less likely to have an immediate significant effect on the workforce.  The current response in factories with an increasing level of automation is to move workers to other departments with different tasks or to other garment factories within the same industrial group.
"We targeted the best factories in our programme, the ones planning to increase their automation across the factory floor soon," says Better Work Bangladesh's Kamal Maruf, who led Pulse research team. "We targeted factories with buyers including H&M, GAP, Marks & Spencer and Walmart. These buyers are supporting factories to purchase automated and new machines, while also calling for the workforce to be upskilled." For example, H&M is running a 13-month pilot in Bangladesh through December 2021, working with buyers, suppliers, and innovators through a series of cross-sector dialogues to create new avenues for employment of women, equipping them with the necessary skills and knowledge to sustain their livelihoods in a future that likely will be dominated by automation.
"The first take away we had from the Pulse research is that enhanced automation won't completely change the factory set up," says Kamal. Factories are transitioning to automated machines primarily in the cutting, fitting and support services sections, while in the sewing section factories are simply buying new machines but un-automated. "The high level of flexibility required to work with pliable and stretchy fabrics makes traditional sewing methods still a must," he says. The uptake of new technologies, its speed or the scale at which this is likely to happen remains unclear, according to ILO research. That said, researchers in ILO studies predict that while automation in the garment industry has been slower than other manufacturing sectors, factories will be under pressure to speed up production post-pandemic.
"This process is gradual and could take years, though some factories might have enhanced automation in their premises that could lead to a decreased workforce in seven to ten years," Kamal says. Promisingly, factories and their partner buyers have started to invest in upskilling programmes, even building training centres on their premises to help workers become better-prepared for higher-level jobs. "Workers employed in the factories' automated section represent at the moment around five percent of the total workforce," Kamal says. "But if we look at high salary-jobs, we would find male workers."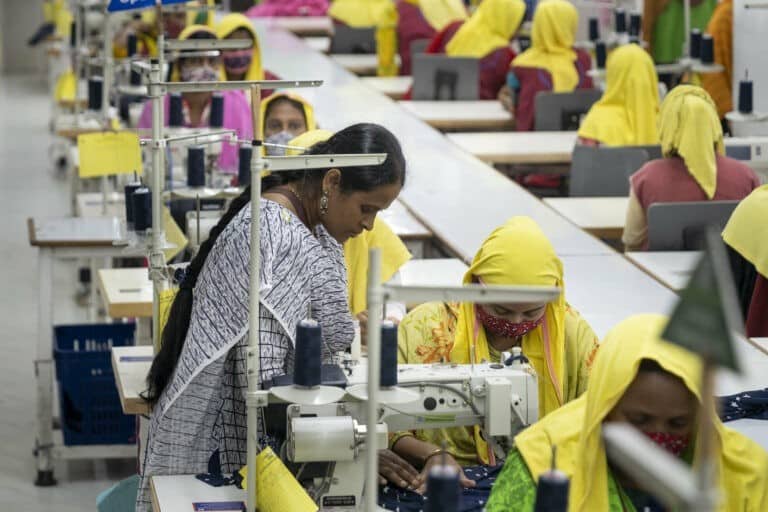 A Centre for Policy Dialogue (CPD) study shows that there are clear gender-based differences in the capability to operate different machines, where more male workers are able to operate multiple machines due to their access to education and technical training.
"In fact, in relation to GEAR specifically, equipping female workers with essential soft skills to manage lines of 25-35 operators as a line supervisor provides transferable skills and prepares women for other kinds of leadership positions. It complements the technical knowledge they acquire through the `hard skills' training, which helps women be more resilient in the face of job losses resulting from automation, restructuring, and COVID-19 impacts on RMG global value chains ," says Nabeera Rahman, GEAR Lead for the IFC.
"This is the right time for GEAR and Better Work Bangladesh to incorporate the tools and techniques required for future automation and upskilling of the workforce," says Mohammad Shamsul Hoque, a Better Work Bangladesh Enterprise Advisor and GEAR supervisor. "This is crucial for the career progression of women in the sector. When women like Mitu progress on the career ladder, their salaries increase, their life improves and, as a trickling effect, their families' living standards also flourish."
Mitu agrees.
"I've become much more self-confident through GEAR's training and its follow-up practices. I believe GEAR will continue to pave the way for women's career progression, even and especially, amid the future automation of our work."