Pham Thi Thom, a 28 year-old worker, had been sewing clothes at Eclat Vietnam Textile Co., Ltd for approximately eight years, before her manager considered her for a supervisor position after she was selected to be a Gender Equality and Returns (GEAR) trainee. GEAR aims to equip potential female line supervisors with the skills necessary to perform this role effectively in support of improved line productivity and career progression. "When I initially worked in the factory, I was not even good at sewing. My line manager provided support and trained me a lot during the first few years that I worked here," Thom says. She adds that "When there were problems on the sewing line, I didn't know how to properly handle the bottleneck. All I could do was report to my line manager and wait for her advice".
GEAR is an International Finance Corporation (IFC) initiative that Better Work started implementing in Bangladesh in 2016, and that was adapted for Viet Nam in 2019 with the support of the United States Department of Labor (USDOL). The training covers a wide range of topics including production management, enhanced productivity, effective communications, workplace management, and quality control. GEAR has equipped female sewing operators like Thom with the technical and soft skills necessary to fulfil supervisory roles and encouraged them to apply Kaizen in production. Kaizen is considered the core element of all lean production methods, which focus on improving productivity, eliminating waste and achieving continuous improvement in production.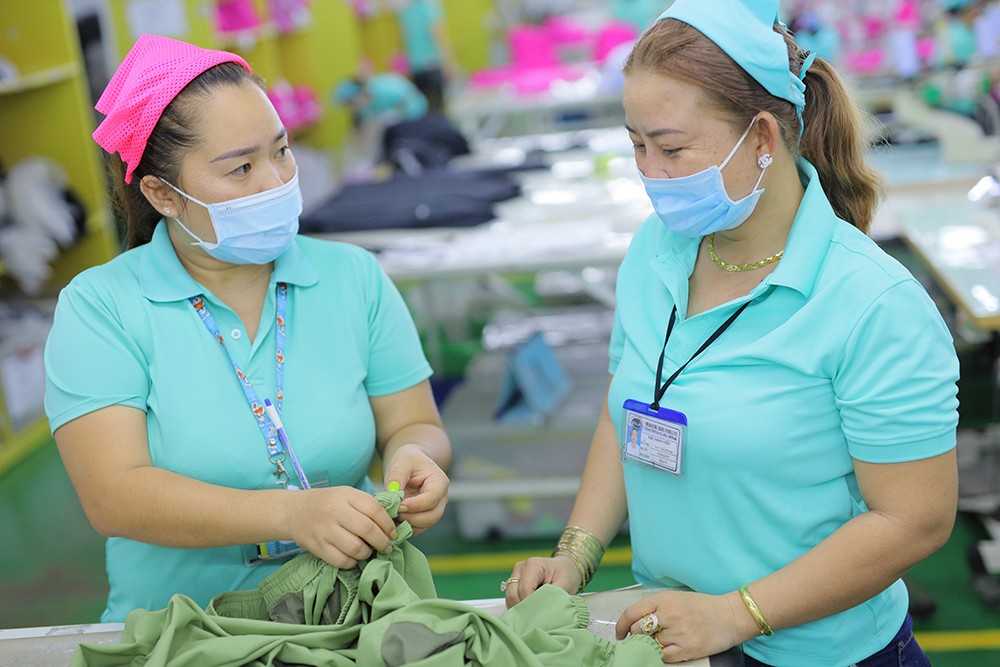 "Now, I am confident to manage 20 workers on a sewing line. I am also glad that my Kaizen initiative was appreciated by the factory manager, and they decided to apply it in all sewing lines. It definitely helps reduce our processing time and increase productivity.", she said after her promotion. Completing its fifth phase, GEAR has now been rolled out to 35 garment factories in the North and South of Viet Nam.
Thom's performance and active change after GEAR has been recognized by her supervisor. "After participating in the course, Thom has gained a lot of experience and she is aware of the supervisory role that she has been assigned. She has become more active in work with smoother task arrangement and management in the sewing line. During the GEAR process, Thom actively came up with the Kaizen improvement idea: improving the back pockets of the pants. She made this improvement by implementing changes to the programming machine, which saved approximately 30 seconds of processing on each product", Mrs Luan, Thom's supervisor said.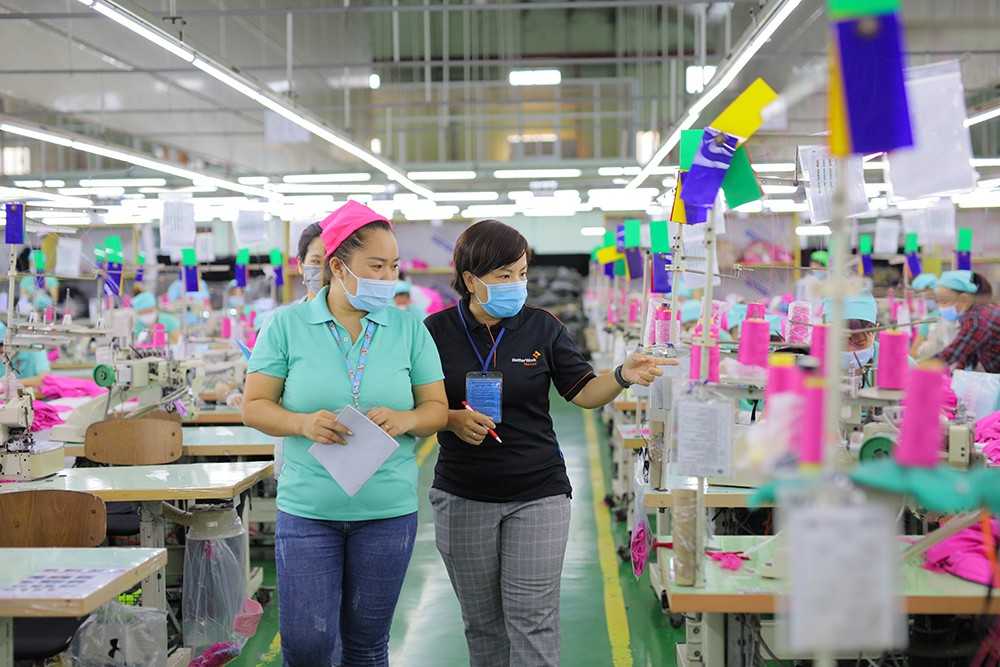 Many garment and footwear enterprises are working to create an equal working environment by giving women more opportunities. Committing to providing the GEAR training programme is one way that factories are making positive change. "The best thing about GEAR is that I not only learn about technical skills but also gender and gender equality. I feel lucky that not only myself but also many female sewing colleagues are given the chance to develop ourselves and get promoted at work." Thom adds, "It's great that my husband and family provide great support to me while I balance work, family life and spending time with the training. My husband supports and shares the housework with me a lot, which is the biggest motivation for me to overcome difficulties at work."
Le Thi Hien, a factory staff member working at Poong In Vina Co., Ltd, has benefitted from another Better Work training approach known as the Factory Ambassador (FA) Programme, which works with core enterprise staff to build capacity and spillover impacts for factory personnel, so that FA trainees can replicate the role of a Better Work Enterprise Advisor as part of the advisory process as well as coordinate virtual interventions of the service model. FA training also helps raise awareness about gender equality and promote women's empowerment at the factory level.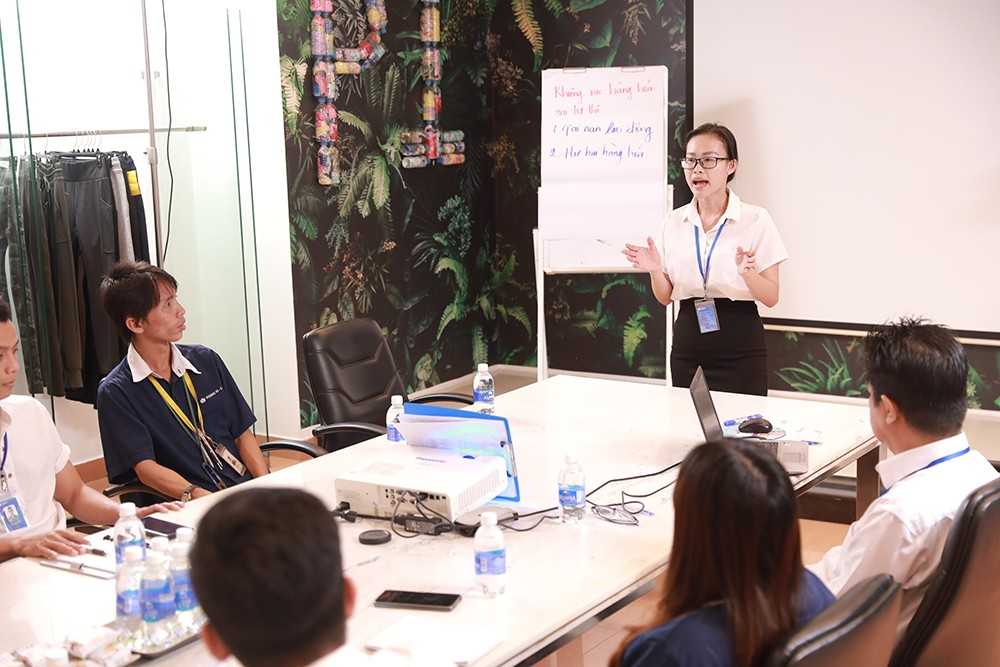 Hien has been working at the factory for around 11 years. Joining as a Human Resources Assistant, Hien was recently promoted to be the Compliance Assistant Manager. Through the course, she has been able to acquire many useful skills, especially related to communication and industrial relations. Hien has also refined other essential professional competencies, which have been crucial for managing factory level Performance Improvement Consultative Committee (PICC) meetings .
"Before joining the FA course, I managed to organize the PICC meeting every month. During the meeting, sometimes I felt that people were losing their focus on the meeting, but I didn't know how to handle it. Through the FA course, I learned some essential skills such as listening, communication and interaction skills. When I communicate with people, I learned how to make eye contact and practiced listening more than speaking. I think that this is the best thing that I learned from the course. Once I learned to listen to people, I could understand them better and respond appropriately to their concerns," Hien says.
Ms. Hien and Ms. Thom are two of 348 trainees (for both GEAR and FA training courses) who directly benefited from Better Work Viet Nam's GEAR and Factory Ambassador initiatives. With female workers accounting for over 70% of the workforce in the garment and footwear industry, promoting gender equality and women's empowerment are the key to creating the momentum needed to overcome the impact of the COVID-19 pandemic for a quick and sustainable recovery of the garment and footwear industry.