When her father left her family, including her sick mother and sister, Runia Akhter made it her life's mission to build a better future for the three of them, through hard work and perseverance.
She was a sewing operator. Now she supervises 80 workers.
Runia's day starts at around 7:00 am.
The twenty-eight-year-old gets up early to tidy her rental house and prepare meals for the day. It's a dash to get everything ready before work, but she knows it's worth it. She's laying the foundation for a better life..
Her responsibilities increased manifold since her promotion in April 2021 as a Production Supervisor at Cosmopolitan Industries (Pvt) Ltd on the outskirts of Bangladesh's capital Dhaka.
"My new role comes with a lot of responsibilities, since I have to ensure the efficiency of a production line manned by around 80 workers," Runia says.
"The pressure is always high. This is one of the things I love about my work."
Her ultimate dream? Building a house of her own and keeping her mother, who has been battling chronic mental ill health for the last 10 years, with her.
A sewing operator for 10 years, the 'GEAR' training programme developed her skills, in order to rise up the ladder.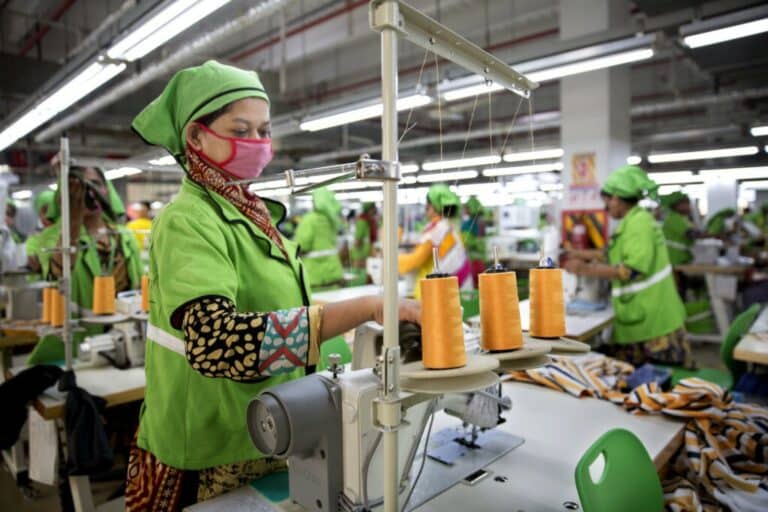 Runia's job as an operator consisted of sewing clothes all day, but she wanted more.
She joined the Gender Equality and Returns (GEAR), a two-month comprehensive training programme, in January 2021. The International Finance Corporation (IFC) pioneered the GEAR programme to upskill women workers and empower them to enter supervisory and leadership positions. In Runia's factory, ten workers were selected for the GEAR programme through a competitive process.
"The training was a transformative experience," she says, "It shaped my understanding of line balancing and team efficiency in addition to building the crucial soft skills and technical skills I needed to get a promotion in my factory."
GEAR is a special initiative of Better Work Bangladesh (BWB), delivered as part of its training and advisory services. GEAR aims to support career progression opportunities for women working in RMG factories through capacity building on soft skills and technical skills. All these, in turn, open opportunities for people like Runia.
Now she earns more : "It feels good to save some money for the future."
As a supervisor, Runia now makes BDT 19,000 ($222) per month, over 72% higher than her previous salary (without overtime) of BDT 11,000 ($128).
"Now I can save some money every month, which I couldn't do before," she said.
The GEAR-promoted female supervisors see – on average – a 39% increase in salary.
GEAR makes a strong business case for promoting gender-equal leadership and management in RMG factories. Research shows that women supervisors' line efficiency is 5% higher (IFC 2018) and female supervisors trained by Better Work achieved a 22% increase in productivity on their lines (Better Work 2016).
What's next? Runia is ready to study more for her next promotion
Earlier in her life, Runia had to give up her education so that she could work and earn for her family. Now, more than ever, she knows that for her to fulfil their dreams, she must start to study again.
"My desire," she says, "is to study part-time to complete my school education and pursue secondary school and college degrees in whatever way possible."
"I am gaining lots of technical skills in my job. If I get a diploma," she says, "I want to be a manager in a factory."