Helping address the gender imbalance in leadership roles in garment factories     
DHAKA, Bangladesh – What does gender equality in the workplace mean? Not just for women, but for men? Mohammed Faruk has several female supervisors in his factory, so this is a familiar question.
Female supervisors, he said, have the same level of skills as the male supervisors, and in his experience, their influence can improve workplace culture, both for women and men.
"This makes a huge difference in the production floor," says Faruk, an Operator at That's It Sports Wear Ltd. in Savar, on the outskirts of Dhaka.
The 'little big things' that Faruk said has turned him into a passionate promoter of women's empowerment are his two daughters, who made him rethink the ways the world sees women and men differently.
"The biggest problem is our identity as women and men," he says, "Because it stops us from being truly human."
Samsun Nahar is a quality inspector at That's It Sports Wear Ltd.  She wants to become a quality controller one day. She said that she feels lucky to work in a factory that values skills over gender.
"We [female workers] go to the same production floor, have the same colleagues and chase the same production target, but a lack of confidence stops us from embracing new opportunities and getting more of what we truly want," Nahar says, "But things are changing fast."
Amena Khatun, a female worker at the same factory, sheds light on one more reason the garment factories should have more female supervisors on their production floors.
"It's good to have female supervisors because most of the workers are women. There's a lot of things we won't share with a male supervisor," Khatun said.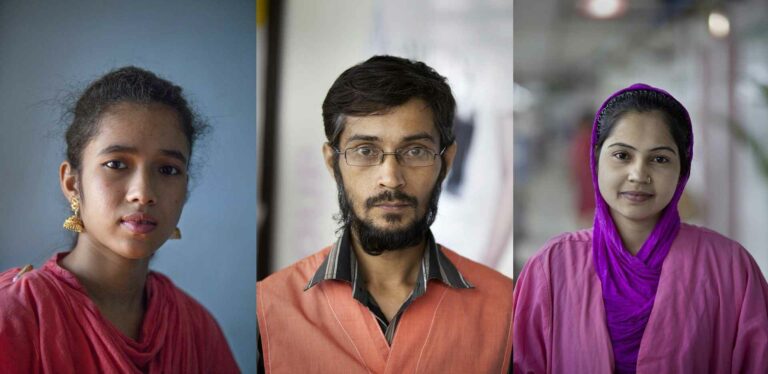 For the last four decades, Bangladesh's garment industry has put more women to work than any other sector. That said, women in leadership positions remain scarce. Gender equality and the freedom for women to thrive in the workplace without facing discrimination remain key unsolved social issues in the primary sector driving the country's economy.
Better Work Bangladesh has been working to address this issue through capacity-building initiatives aimed at easing the path for women to progress into supervisory roles and reducing gender imbalances at the management level in garment factories.
On this International Women's Day, Better Work Bangladesh celebrates six sustained years of the GEAR (Gender Equality and Returns) initiative designed to help female workers build their competencies and leadership skills to climb the career ladder.
Piloted in 2016 as a special initiative of Better Work Bangladesh, the programme made tremendous strides in its pilot phase and entered its second phase of intervention in 2019.
Over the years, a total of 512 female workers have been trained; 302 of whom are now in supervisory roles. GEAR has been a win for these factories who have seen production efficiency increases 5 percent in lines overseen by GEAR trainees. The GEAR-promoted female supervisors saw – on average – a 39 percent salary increase. Today, GEAR graduates are role models to countless women, demonstrating to workers and to the industry the limitless potential women have for career progression and increased factory productivity.
As GEAR and other programmes gain footing in Bangladesh's garment sector, the future may prove to offer a realized vision of a more female-driven leadership class – the type of future that not just Mohammed Faruk, but also his daughters, can be proud of.