16 April 2015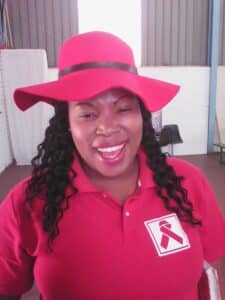 Lesotho – "I didn't really know what peer education was in the beginning and I wasn't interested," says Rethabile Nkokana, who works in a footwear manufacturing company in Maputsoe, Lesotho.
Rethabile has been an HIV peer educator since 2008. This role consists of providing education on HIV and health issues, promoting condom use, counselling, and organising peer education mobilisation activities.
She continued: "When I first joined, we were encouraged by the factory nurse. I don't know what she saw in me but she really persuaded me and said I had the potential to be a good peer educator".
She says that she was able to convince other people to test before she was ready herself. Eventually, she did her own test and encouraged her in-laws and their rural community to test by giving them information and dispelling myths about HIV. She said that these villagers now test twice a year and discrimination against people who are perceived to or live with HIV has also gone down.
"After seeing the devastation and people dying, both in the factory and some of my relatives, I had a new conviction to work hard and save lives. We have come really far from where we started" says Rethabile.
Hailing from Ha Ramokoatsana, Pitseng in the Leribe District, Rethabile lives alone at a rented flat in Maputsoe. She lives near other factory workers but her family is far away. Her husband of 15 years works in the South African platinum mines. If they are lucky, he is able to come home once a month. She also has two children (a 12 year boy and a 7 year girl) who are staying with their paternal grandparents in Pitseng. She works hard in order to help her husband provide for them and make ends meet.
After she tested HIV negative, Rethabile was relieved but she is also aware that she will have to be careful because her husband works far away from home. She says that slowly she has been able to negotiate her husband into using condoms using the skills, she initially acquired from a Work Life Skills Training provided by the Alliance of Lesotho Apparel to Fight AIDS (ALAFA), an NGO that worked in the country until 2014. Rethabile says that at first it was difficult and her in-laws were angry with her but now everyone has become more accepting.
Along with Rethabile, Limakatso Matee participated in a recent HIV and AIDS peer education refresher training offered by Better Work Lesotho. Limakatso, who has been a peer educator at an apparel factory in Maseru since 2009 agrees with Rethabile that educating others about HIV and changing their behaviour involves challenges.
"It is not always easy to work with people" she says. "But, if you know you are doing a good thing, it does not matter what they say. Even if they (workers who she educated about HIV) don't thank me, I still help them because I know their lives have been saved."
Limakatso, a mother of two, is one of a small number of garment workers who has her family living in Maseru with her. She says that peer education helps her personal development as well as allowing her to help others.
"If workers start trusting and respecting you, you also have to start being trustworthy, confident and respecting yourself," she says. "I think peer education has also helped my family and my marriage because the communication skills that we are taught, we also use in our families and communities."
When Limakatso talks to her Maseru and Mafeteng communities about family planning, sexual reproductive health and life skills they joke and call her the village nurse. She says that this makes her very proud.
Both women say that in their factories they can see the impact that the peer educators are having by creating awareness about HIV prevention and care.
Absenteeism is down, the death rate is lower, production is good and the employer is also happy and contributes his resources and time to ensuring that peer educators are supported in their work.