14 November 2013.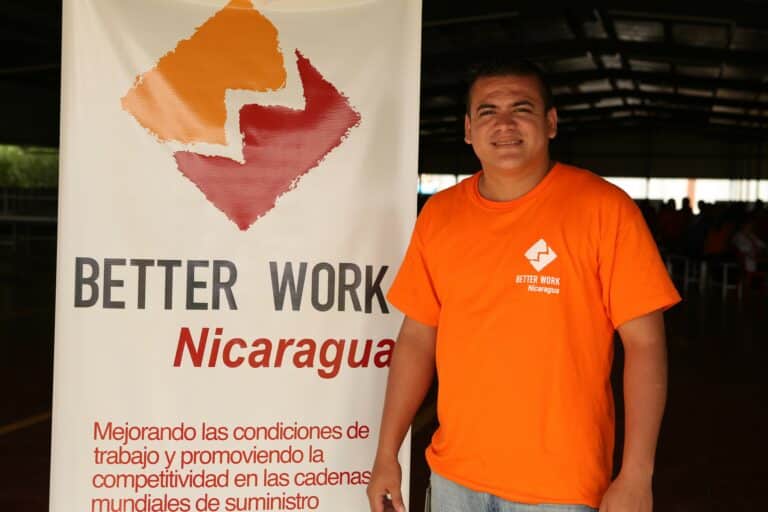 Niquinohomo – Every day, Guillermo José Aráuz travels more than 45 kilometers, from the municipality of Tipitapa to his job at the Hansae International Factory in Niquinohomo. For Aráuz, it is a trip well worth the distance.
I worked in other textile factories, where production is what is important. Hansae is different."
Aráuz, who started at the factory in the packing department and has moved up to become a supervisor, also proudly wears the hat of trade unionist. Within this context, he claims that Better Work Nicaragua has played an important role in increasing workers' understanding of their rights. In addition, he says the programme has had an impact on how workers and managers communicate.
Everything has changed since Better Work Nicaragua started training us. Thanks to the trainings, the administrators and supervisors negotiate, and provide information that is relevant to all the workers."
Aráuz points out that with guidance from Better Work Nicaragua, the factory was able to create a Performance Improvement Consultative Committee (PICC), which brings together worker and management representatives to develop work models that address workplace challenges through negotiation and compromise. Based on these models, workers have a clear understanding of production policies. And through consensus with the PICC, management is able to coordinate production processes that make the factory attractive to discerning international brands.
In addition to the programme's advisory services and training, activities organized by Better Work Nicaragua—including factory events and a Health and Safety Fair that brought together workers, employers, unions and Ministry of Labor representatives—have been received positively as opportunities to build capacity and trust.
And workers such as Aráuz are taking notice of what all of this means for themselves and their families.
The better planning of work—and the space that Better Work has provided us as important workers in the factory—has helped us have better economic resources and time for our families. Even though the work in our factories is very hard," says Aráuz. "I like to work knowing that every week I will have time to spend with my children and wife."