As Better Work Jordan enters its fourth strategic phase, it continues to expand on achievements made in partnership with national stakeholders during the past 14 years. With the launch of Phase IV Strategy (2022-2027), the programme and its partners aspire to a competitive Jordanian garment industry that advances national socioeconomic development, alleviates poverty, and protect worker rights.
Since its inception, Better Work Jordan has made important strides in improving working conditions and compliance with national labour legislation and international labour standards. The total value of Jordanian garment exports has doubled and jobs created in the sector has significantly increased. As of 2022, ninety-one programme-registered factories employ 62,963 workers, with women comprising around 75 per cent. Migrants make up three-quarters of the labour force, and Jordanians 25 per cent.
Phase I Strategy (2008-2013)
During the first phase of the programme, Better Work Jordan focused on improving the lives of tens of thousands of workers by driving sector-wide, sustainable improvement in adherence with Jordanian labour law and international conventions on Fundamental Principles and Rights at Work. Better Work Jordan promoted the business competitiveness of the apparel sector by assessing participating factories against International Labour Standards and national labour law to identify compliance requirements and recommend improvements in systems.  The programme also provided advisory and training services on how to improve compliance by increasing workplace cooperation. At the industry level, the programme engaged stakeholders to ensure long-term sustainability of factory improvements.
Phase II Strategy (2014-2019)
In the second phase of the programme, Better Work Jordan strengthened the quality and consistency of core services; extended impact beyond the factory level to increase long-term sustainability and economic output of garment exports; and enhanced its long-term financial viability.
In this period, Better Work Jordan extended its services to all factories in Jordan's apparel sector, introduced a systems-based approach to improvements, expanded its training offering, and revised its approach with a goal of improved factory ownership and sustainable change.
The impact of Better Work Jordan has led to steady improvement of factory compliance; implementation of a new sector-wide collective bargaining agreement; a unified contract for garment migrant workers; the establishment of the first workers' centre in Jordan; the development of a long-term strategy for the garment sector; and a marked increase in the number of international brands sourcing garment products from Jordan. The programme has also extended impact beyond the factory level to advance the industry in the long-term, contributing more to the Jordanian economy and society, as demonstrated in the independent impact evaluation concluded in 2016.
Phase III Strategy (2017-2022)
In this recently concluded phase, Better Work Jordan moved towards a quality assurance and coaching-oriented role, with national stakeholders taking on increased responsibility for delivery of services. The programme continued to facilitate relationships between the various stakeholders, and worked to influence policymaking for more responsive and effective labour market governance in Jordan.
Phase III Strategy had three main goals: to accelerate and deepen factory improvements in the industry and beyond; to build the capacity of national stakeholders and localize service delivery; and to create sustainable mechanisms for policy reform in the garment industry and beyond.
In this period, Better Work Jordan extended factory engagement to the manufacturing industries of plastics, chemicals and engineering, and supported stakeholders and employers to improve migrant workers' living conditions and better understand worker psychological needs.
Programme background
Better Work Jordan was established in 2008 at the request of the Government of Jordan (GoJ) and with the support of the US Government, following the exposure of labour and human rights violations in the Jordanian garment industry in 2006. This prompted the US Department of Labor (DoL) to place garments made in Jordan on the List of Goods Produced by Child Labor or Forced Labor. In recent years, US Government assessments of forced labour in the industry have documented dramatic improvement, and in 2016, the garment sector was removed from that list, which DoL attributed in significant part to the work of Better Work Jordan.
In its 14 years of operations, Better Work Jordan has steadily grown, accumulating a wealth of good practices and lessons learned, as well as solid partnerships with stakeholders – all of which have driven successes of the programme. Better Work Jordan has developed its activities to allow for a deep understanding of various aspects of the industry and areas that require further work. The evolution of  the programme's work is documented both in its  First Compliance Synthesis Report and its Annual Report 2022: An Industry and Compliance Review. The programme has achieved a strong and measurable impact on improving workers' lives and promoting business competitiveness, as evidenced in the 2016 impact evaluation. In particular, Better Work Jordan participation was linked to significantly curbed forced labour and increased wages for workers.
The programme aims not only to transfer technical knowledge, but also to play a key role in quality control, coaching, and promoting sound industrial relations, in partnership with national stakeholders. It works closely with national partners to bridge trust gaps in the sector, address challenges, and increase accountability and social dialogue.
Continuous improvement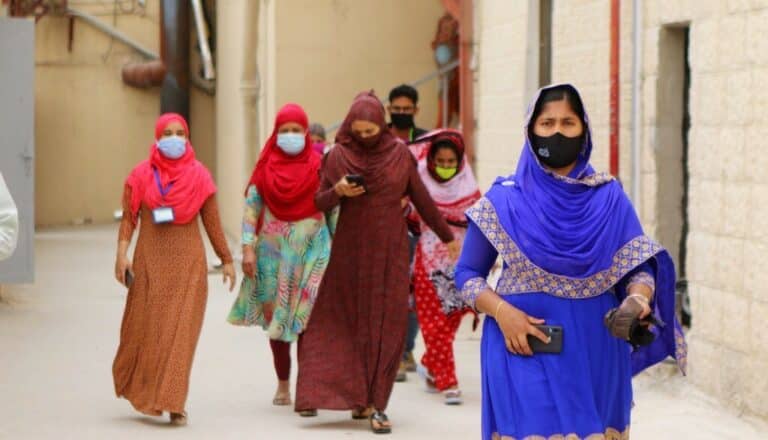 The garment industry has seen significant growth in the last ten years. Total exports were valued in 2021 at JOD 1.3 billion (USD 1.8 billion), compared to JOD 700 million (USD 972 million)  in 2010. The number of employed workers increased from 13,338 in 2010, to 62,963 last year. The garment industry is Jordan's top export sector, making up 27 per cent of total exports, and contributing two per cent to the gross domestic product (GDP), according to the Jordan Chamber of Industry (JCI), the primary business association in Jordan that represents the industrial sectors, including garments.
"The garment sector has been steadily improving since 2006, including various aspects in terms of legislation, as well as relations between workers, the government, and employers," said Fathallah Al Omrani, president of the General Trade Union of Workers in Textile, Garment, and Clothing Industries.
The union has launched a five-year strategy with support from Better Work Jordan to advance the organizing capacity of the union and better support worker rights. The strategy seeks to strengthen union governance and democracy, enhance mechanisms for communication with workers, advance industrial relations, and secure the union's financial future and equity. Better Work Jordan also engages directly with workers through trainings, surveys, and phone calls. In the coming years, trainings will focus on mental health and reducing gender-based violence (GBV).
Haitham Al Najdawi, head of the Inspection Directorate at the MoL, sees "very good achievements" in the garment sector, though he acknowledges "some companies ensure a work environment consistent with national legislation… other companies, especially subcontractors, do not comply with the law"
The relationship between the MoL and Better Work Jordan has evolved over time, from the first cooperation protocol (Zero Tolerance) in 2010 to the most recent Memorandum of Understanding (MoU) signed in May 2020, establishing a Better Work unit within the ministry that was officially launched in 2021. This relationship has deepened, with Better Work Jordan training MoL labour inspectors on the programme's assessment methodology. The establishment of the unit was a major milestone. The programme will continue to work closely with the unit to ensure the effectiveness and sustainability of its mission.
Better Work Jordan has also strengthened its partnership with the Jordan Garments, Accessories and Textiles Exporters' Association (J-GATE), which represents large exporters and advocates for policies that would improve the economic and business situation of employers and make Jordan a more attractive place to invest. The programme and J-GATE signed an MoU in 2020, and have cooperated on raising awareness among employers, promoting industrial relations, and increasing communication between J-GATE and its members. For the first time in 2021, they jointly hosted the 13th Annual Multi-Stakeholders' Forum.
"The sector has proved its ability to comply with the Jordanian labour law and international labour standards, as evidenced by the presence of top international clothing brands in the country," said J-GATE Executive Director, Sawsan Al Habahbeh.
Other key partners of Better Work Jordan include international buyers sourcing from the country. It is important for buyers to trust that compliance is monitored and maintained.
"Jordan's garment sector has succeeded, with the support from Better Work Jordan, as well as collaboration among national and international stakeholders, in resolving a number of challenging issues that might otherwise be considered insurmountable and structurally endemic," said Yusra El Esir, corporate responsibility manager at PVH. "These issues include wage discrimination between local and migrant workers, pre-hiring pregnancy tests, and migrant labour recruitment fees."
Achieving sustainable impact
Better Work Jordan's approach to sustainability is centred on building the capacity of national stakeholders through targeted training, coaching, and frequent tripartite meetings, and by being an authoritative source of knowledge, data and evidence for the industry.
The programme will gradually transfer its assessment tools and methodologies to the MoL, and advisory and training services to workers' and employers' organizations.
Better Work Jordan has embedded its approach in Phase IV Strategy, which goes beyond the programme's past role as a service provider.
Phase IV Strategy (2022-2027) outcomes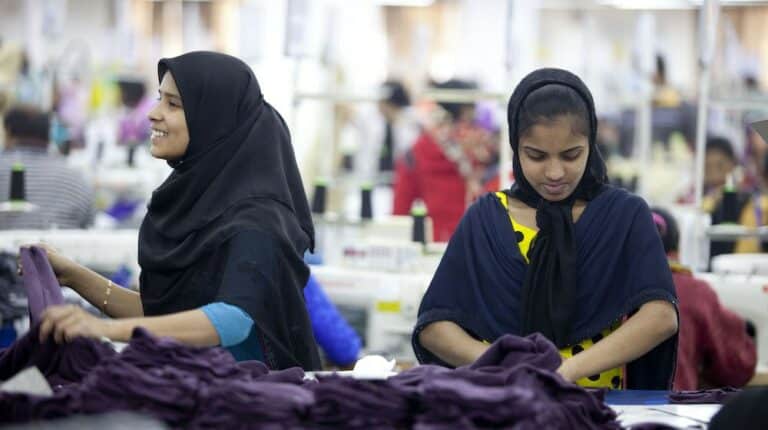 By 2027:
Jordan's garment industry will have an effective system of tripartite-plus labour market governance, in which workers' rights are upheld and protected in line with national labour laws and core international labour standards.
Export growth and active labour market policies will increase the garment industry's contribution to Jordanian employment.
Better Work Jordan will have made a positive impact on working conditions and labour market governance beyond Jordan's export-oriented garment industry.
The Phase IV Strategy also aligns with key GoJ policy priorities, including the Economic Priorities Programme 2021-2023 (EPP), which aims to improve Jordan's business and investment environment and increase Jordanian employment. The strategy is also aligned with the Jordan 2025 National Vision and Strategy, which aims to create quality, private-sector jobs for Jordanians, foster inclusive growth, accelerate export promotion capabilities and improve the business environment.
Each stakeholder already has a key mandate and role to play in sustaining progress, and Better Work Jordan seeks to increase the effectiveness and responsibility of these partners.
The MoL believes that its role  can be achieved by establishing labour directorates at the country's industrial zones to ensure compliance with the Labour Law through regular inspection as well as addressing worker complaints, according to Al Najdawi.
He said the MoL's code of practice, the Golden List, aims to improve labour conditions by incentiviing compliance with Jordanian Labour Law and international standards. Enterprises that adhere to the Golden List compliance criteria qualify for incentives that lower the costs of recruiting migrant workers. Al Najdawi added that the government seeks to amend labour legislation "to address challenges at industrial zones and worker dormitories and to ensure effective labour inspection."
The role of the trade union "is crucial for ensuring sustainability of achievements in the sector as well as stability in the labour market through binding sectoral agreements," said Al Omrani. "The partnership between the union and the ILO has developed and facilitated union work, advancing the garment sector as a whole."
The JCI "will continue to collaborate with Better Work Jordan, take part in debating labour issues, including legislation, standards, and minimum wage, and in strategic planning for sustainable growth and prosperity of the sector," the JCI said in a statement.
J-GATE Executive Director, Sawsan Al Habahbeh, called for "better understanding of what the sector is capable of achieving".
"The garment sector is capable of creating much-needed jobs for people in underprivileged and rural areas, and of supporting economic growth in country. Its resilience under the COVID-19 pandemic proves ability of the sector to deal with unforeseen circumstances," she said.
In order to guarantee the sustainability of these achievements, "buyers will continue to engage with relevant stakeholders, to ensure shared mission to improve workers' lives in Jordan's garment sector continues," El Esir said.
Better Work Jordan Programme Manager, Tareq Abu Qaoud, said "observing the evolution of workers' living and working conditions in the past years has increased the programme's commitment to supporting national stakeholders to fulfil their mandates, and promote decent working conditions."
We will continue to closely collaborate on addressing challenges facing workers, at the policy level and in different areas, such as gender equality, increasing worker voice, and improving recruitment practices, wages, and working hours."
"We invite other actors to back efforts of enhancing labour conditions in the garment industry and other sectors," Abu Qaoud added. "Building trust among social partners is crucial to sustain improvements."