13 November 2017.
Jordan – The garment industry is female-dominated, and around 80 per cent of the 60 million workers globally are women. Yet, in Jordan, a third of the 65,000 workers employed in the sector in Jordan are men. Local and migrant employees—mostly hailing from South and South East Asia—work side-by-side with their female counterparts across the kingdom's textile plants.
This collection of stories provides a unique snapshot of the textile industry, highlighting the work, struggles and hopes of a cross-section of the men who make up the sector.
All of the men featured here are employed in Better Work-affiliated factories in the manufacturing hub of Addulayl, an industrial park some 45 kilometres from the country's capital Amman.
---
Naser, 46, helper, from the city of Zarqa, Jordan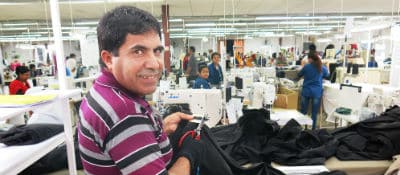 I started working here three years ago, but had a break at one point. Before that I was working with the Jordanian army for twenty years.
I cover various tasks here: I am a helper and move between departments. There is a high unemployment rate in the country, but for those who really want to work, there is always a job. Unemployment is not a good reason to give up, people should get themselves together and look for an occupation. If one job is not enough because of Jordan's high prices, people should just look for an additional job.
Though I am a pensioner, I need to work because of financial responsibilities. I am married, my wife is a housewife, and have three boys and two daughters. All my children are in school. One recently graduated with a degree in Mathematics. One of my daughters is in university and will soon become a teacher; another one just earned his high school diploma. I am really proud of them.
I earn some USD 290 a month, including overtime. This, in addition to my pension, allows me to make ends meet. I am also lucky because I have my own house and don't need to pay for rent.
I am happy to have many foreign colleagues, though it is sometimes hard to communicate with them because of the language barrier. But I started learning new words in their languages.
I would like more Jordanians to show interest in this sector.
Shahadat, 34, department leader, from Dhaka, Bangladesh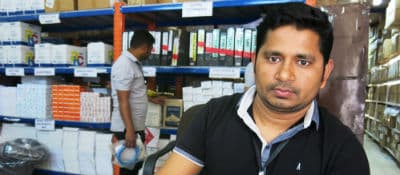 I started working in Jordan 2007 as a helper in the accessories department. Before this, I used to work in a private company in Dhaka and live with my mother.
It was my first experience as a private sector employee in Jordan. I have largely improved over the years. I arrived as a helper, then was promoted to data entry employee and eventually became the head of the factory's fabric and accessories warehouse.
With the money I earn I can guarantee my family a better life back home. I got married in 2015 and have a son who's just turned two. I visit my family every two to three years.
Asgar, 42, assistant production manager, from a village in Bihar*, India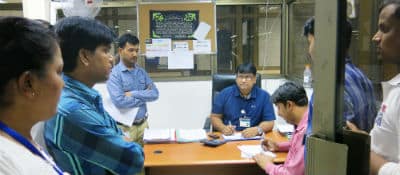 I came to Jordan in 2002 as a machine operator. Before, I used to have a small tailor's shop in my village. My father didn't have a stable job and I had to provide for both my mother and my wife. Following the birth of my son eighteen years ago, I decided to go work abroad to earn more money and make sure he wouldn't find himself in my same, dire financial situation. I wanted him to receive a good college education to reach a distinguished position one day.
I decided to move to an Arab country because of their higher salaries, so I gave my passport to a local recruiting agency.
Once in Jordan, I kept working as a machine operator for one-and-a-half years. Then, the factory manager approached me and asked whether I wanted to be a supervisor. I accepted, and covered that role for six years before I becoming leader of the floor for another six years. Eventually, I applied to my current job as assistant production manager, where I supervise 800 workers.
The first time I went I back to India to see my family was four years into my first stint. I wanted to save as much money as possible. Now, I go every two to three years.
I miss my family terribly. But I am satisfied because of what I have achieved.
* Bihar, in the country's northeast, is one of India's largest states by population. Since the late 1970s, it has lagged far behind other Indian states in terms of social and economic development. Many Indian workers currently residing in Jordan come from this state.
Ashab, 33, pressman in the finishing line, from the village of Narayangonj, Bangladesh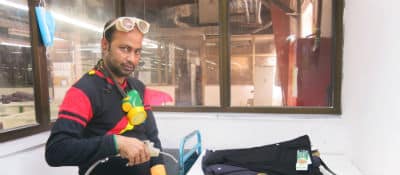 I was already working in the garment sector before coming to Jordan and starting a job as a machine operator.
I decided to relocate here in 2006 to earn money and improve my family's life. I am married and have a six-year-old daughter with whom I talk daily on social networks. I miss them. Still, I manage to guarantee them a better life through the money I earn here.
Hisham*, 42, helper, from the outskirts of the city of Zarqa, Jordan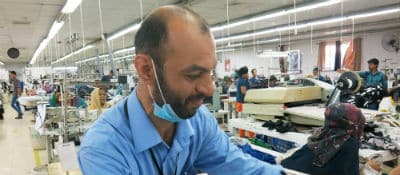 I have been working here for five years. Previously, I worked in another garment plant in Jordan. I have three children, a girl, 10, and two sons, one is eight, the other two-and-a-half. My eldest son has autism.
I earn around USD 330 month. The salary is fine, especially because USD 70 alone goes each month for the specialized school my oldest son attends to develop his language skills.
My wife stays home. I wish she could work here too but our boy needs constant care.
I have very good colleagues. I like working with people from abroad. There's a Bangladeshi tailor who is especially helpful.
A company's bus takes me to and from the factory every day.
*Hisham has physical disabilities after a high fever he contracted during his childhood.
Kanchha, 47, cutting department, from a village of 300 inhabitants in the Chitwan district in Nepal, a six-hour drive from the capital Kathmandu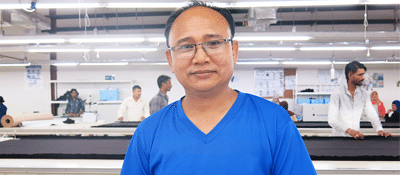 I came to Jordan in September 2009. Before that, I worked in a hotel in Singapore and in a small garment factory in Malaysia from where I returned to Nepal to get married.
Later, my wife and I decided to move to Kathmandu to open a small restaurant, but the business failed almost immediately. One day, I saw a newspaper advertisement for vacancies in the garment sector in Jordan and decided to contact a recruitment agency to come here.
I am planning on staying another two to three years and then going back home. I have saved enough money. I initially thought that Jordan's salaries were higher, like the ones in Singapore and Malaysia.
I was elected union member for the participation committees to represent Nepali workers within our multicultural workforce for the past four years. The Nepali workers recently had an issue with food. We were not getting fish because it is difficult to get and expensive in Jordan. I raised the issue with the management and worked with them to find a solution. Now, Nepali workers eat fish during their meals. This is one of our achievements.
Once I return home, I will open a chicken farm. This is quite a profitable business in my region, which is famous for its chicken soups.
My life is devoted to my two children: a girl, who's ten, and a boy, who's three.  I am working hard for them. I hope my efforts will guarantee them a good future and that they will continue their studies.
We should support and encourage women working inside the factories to help them achieve good results, both for them and their families.
Naseer, 37, cutting section, Lahore, Pakistan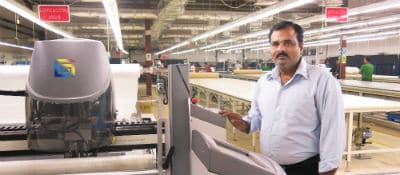 I arrived in Jordan two years ago. The basic salary I receive here is pretty much the same as the one I would earn in Pakistan for the same job. Still, I can earn more than the double (USD 342) with overtime here and have no expenses since food and accommodation are included in my contract. I work every day for ten hours, which includes the two hours of overtime the law allows.
I have two children, a boy, eight, and a girl, five. Both are going to the same school where my wife works as a teacher. She works six hours a day and earns USD38 a month.
I already worked in Jordan between 2003 and 2007, but I decided to come back because my family went through hardships. I took a loan of about USD 10,000 a couple of years ago because my son needed to undergo a brain procedure and came here to repay that debt.
My son is much better now and can have a normal life.
I send back a third of my salary and I save the rest. I share my room with eight other people, all from Pakistan and one of whom I know from home.
Hira, assistant accountant, from the Saptari Province in Nepal, a seven-hour drive from Kathmandu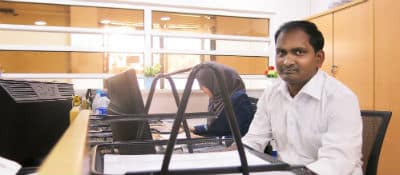 I came to Jordan in July 2009 because I was poor. My family consists of my father, wife and two boys, one is ten, the other six.
I worked as a cleaner when I first arrived. A year into the job, the factory manager offered me a good opportunity to become a cleaning supervisor. Before and after my shifts, I began to study computer programmes, specifically Excel, both with the factory manager and a friend in the dorm. I always felt the urge to learn something new.
I worked very hard and went the extra mile throughout. This is why the management kept supporting me over the years.
When I moved on to work in an office, I did data entry for the next two years. Meanwhile, I took a computer course and studied at night. I also arrived very early in the morning to attend private lessons with the factory manager.
Unfortunately, I couldn't complete my studies when I was young. I quit school at 16. There was no more money to pay for my final exam. I also have three sisters and two brothers. It was difficult for my father to support us all, and my mother died when I was small.
But I always thought that if you really want something and work hard to achieve it, you can get it.
I built a house in the city back home and I am sending my two children to English schools. This is the greatest achievement of my life. My family was my drive during these years.
Ashoka, 27, cutting department, from a village 200 km from Colombo, Sri Lanka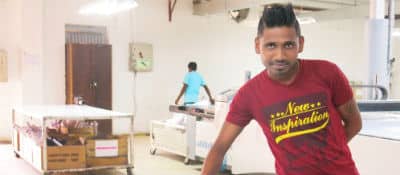 I came to Jordan in 2011 and have worked in two different garment factories so far. I came here to support my family and build a house. I have my mother, father, and two younger brothers back home.
One of my brothers currently works with the Sri Lankan army and the other is still in school. I finished my education at Grade 10 as I failed my final exam because of math. I am the eldest son, and had to start working immediately after school to help my father, who was the only breadwinner in the family.
This is the first time I've ever worked in a garment factory. I started as a helper; six months later I became a cutter. My girlfriend is also here in Jordan. She is from Sri Lanka as well, but she works and lives in a different part of Jordan.
I will work very hard for an additional year to complete my house back in Sri Lanka. I still need more money to buy a van. When I go home, I would like to start my own business taking children to and from school with the van. This is a good job where I live.
I very much miss Sri Lanka, but I also have fun here sometime. There was a party for Sri Lankan workers a week ago. We organized a music show and enjoyed it with my colleagues. We watch cricket matches after work and go to restaurants in the area on Fridays.
I can save more here since I don't have many distractions. In Sri Lanka, I would probably waste a lot of my money.