14 October 2016.
Port au Prince – In Fall 2016, Better Work Haiti held its 6th Buyer and Multistakeholder forum at Karibe Convention Center in Port-au-Prince, Haiti. It is a yearly event that unites international buyers, local suppliers, workers' organizations, government officials and any other stakeholders. The objective of the meeting is to facilitate and encourage an open and honest dialogue about each party's contribution to the program and its advancement and to share progress and plans for Better Work's continuous improvement approach within the framework of its mandate. The event provides an opportunity for networking and to promote the Haitian textile industry to international partners.
This year, the focus of the forum was on persistent non-compliance issues (PNCs) in the garment factories with regards to international labor standards and national labor laws. The majority of PNCs are in the assessment cluster on Occupational Safety & Health.
In breakout sessions with mixed groups of stakeholders, Better Work invited participants to identify concrete action points for each of the parties to address these persistent non-compliance issues.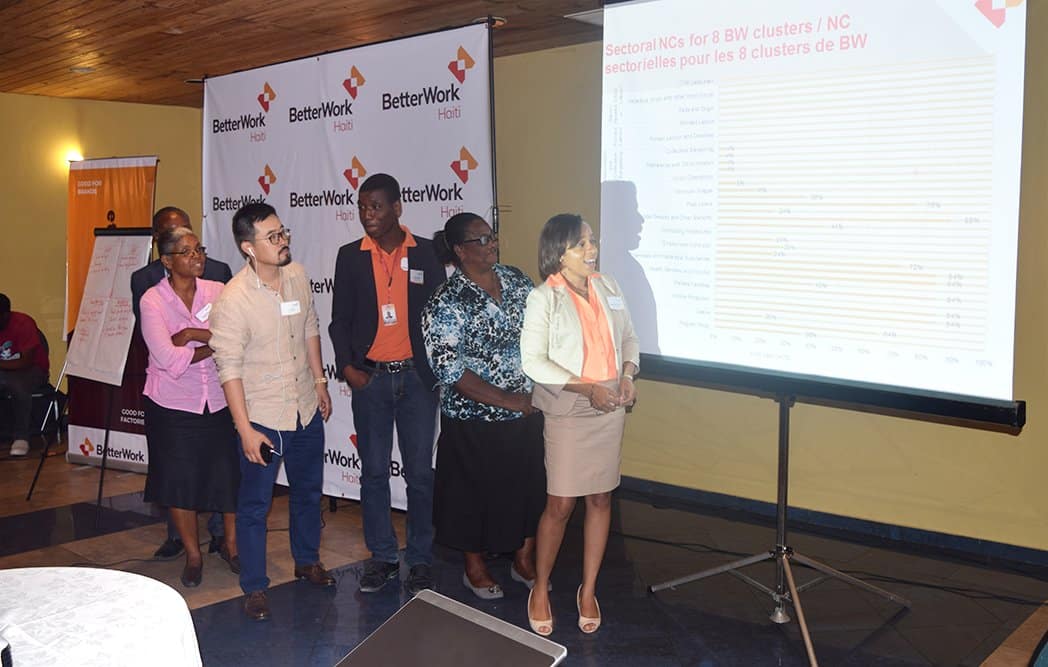 Marie-Lyne Thomas who is heading Better Work's direct factory level work assisted the groups. "It is very important that every stakeholder understands the root causes and the impact of persistent non-compliance issues. In many cases, the only way to remediate these issues is through a collaboration by the different stakeholders which are factory management, unions/workers, the Government and international buyers.
"Together, we can improve the compliance performance of Haiti's garment sector which will contribute to better working conditions for the workers and increased competitiveness of the Haitian factories in the global competition of this industry. Together, we can make a difference."
Better Work Haiti is operating in Haiti since 2009 and funded by the United States Department Of Labor (USDOL).