Almost all garment workers in Asia now own a mobile phone. The Better Work programme is finding ways of using this technology to deliver important information on labour rights. 
3 November 2016.
Phnom Penh, ILO News – Before she owned a smartphone, Kit Sopheak lived in an information black hole. She went to work, she went home. Now and again details about health benefits or a new overtime rule at the Cambodian garment factory where she works would trickle down to her, passed from friend to friend. But often she missed out on important information.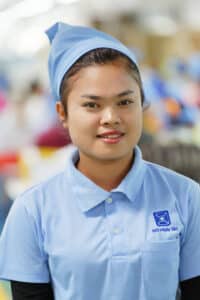 "We just transferred information about work to each other like that, person by person," said 27-year-old Sopheak. "Or, there are announcements that get posted to the wall at the factory. But we don't have time to go stand and read it."
But information sharing is evolving rapidly in Cambodia, as elsewhere. Mobile phone technology is supplanting slower, less effective means of communication. A growing number of workers like Sopheak are scrimping and saving to buy a smartphone – even though they cost the equivalent of a month's salary for most factory workers – in order to access information directly.
"I kept hearing other people get information from the Internet, so I was thinking, 'I want to have knowledge, too,'" said Sopheak. "I don't have much of an education but I want to improve my knowledge. Now I use social media to learn."
In Asia, the Better Work programme – an ILO flagship initiative run jointly with the World Bank Group – is seizing the opportunity created by this enthusiasm for smart phones and using it to drive worker education initiatives in Cambodia and Indonesia.
Reaching more workers, more quickly
Better Factories Cambodia (BFC) has a mobile phone project that allows the programme to reach more workers, more quickly.
"Kamako Chhnoeum," or "Outstanding Worker" is a call-in voice response system that educates factory workers about labour rights by testing their knowledge via a multiple choice quiz on one of three topics; wages and allowances, personal health, and occupational safety and health. A second part of the quiz allows workers to name the factory where they work and provide information about working conditions there.
Already calls to the phone hotline have increased from a starting level of 1,000 – 2,000 workers per month to a peak of almost 15,000 workers in March 2014, when BFC commissioned a radio spot advertising the service. The BFC team are now developing a rating system which will allow workers to score their factories against a number of criteria such as wages, benefits, and occupational safety and health. This information will be made available through an Interactive Voice Response (IVR) system, so that workers can use it when they make choices about where they want to work.
For Sopheak, knowing what kind of health benefits or holidays she is entitled to, or how her earnings compare with her peers in other factories, will help her make important personal decisions, such as whether a trip to the doctor is covered by her employer, or if she and her colleagues should ask for a raise.
"I want to understand what's happening in society and I want to know what's happening in my own factory," Sopheak says. "Having information will help me improve my life.
Using mobile phones to empower workers has also been successful in Indonesia, where BFC's sister programme, Better Work Indonesia operates.
Is this the end of the bulletin board?
According to Mohamad Anis Agung Nugroho, Better Work Indonesia's Operations Manager, a chronic challenge in his country's factories was communications. Supervisors routinely posted notices on bulletin boards or used a bullhorn to make announcements, or workers were briefed via face-to-face meetings with their bosses. But critical information wasn't reaching the employees.
"Workers were saying; 'We're not aware we're entitled to that leave or didn't know health insurance covers this or that,'" said Agung Nugroho.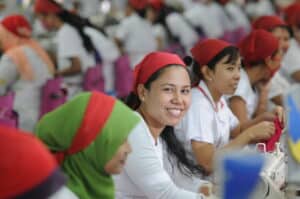 To solve the problem, Better Work Indonesia rolled out a Facebook account and a series of apps that help close the communications gap between factory managers and workers, as well as providing workers with practical information and tools that can be immediately applied to their lives.
The Better Work Indonesia mobile phone apps allow workers to access information related to their wages, rights and benefits, as well as issues related to occupational safety and health.
"The key is tailoring information to the workers' needs. Our focus was on fixing the communications system within the workplace and strengthening workers' organizations to better engage with theirs membership," said Agung Nugroho, "And we've done that successfully."