28 June 2018.
Ho Chi Minh City  – Vietnam's garment manufacturers have made significant progress towards sustainability in the last decade, but more help is needed to help them both understand the policy context and adapt their operations for the future, according to businesses attending a recent joint Better Work-Gap Workshop in Ho Chi Minh City.
The meeting, which brought together senior managers of Gap Inc. supplier factories, the company's sustainability team and Better Work Vietnam, considered measures to deepen the brand's longstanding collaboration with the programme and accelerate progress towards a more sustainable supply chain and a more prosperous business environment.
"We have a global plan to bring all of our suppliers under the scope of Better Work," explained Nga Truong, Senior Program Manager for Sustainability at Gap Inc Vietnam, on the workshop's aims.  "So, we discussed with the Better Work team ways to get these factories -and especially the top managers- more engaged with and aware of the partnership."
Implications arising from the rapid development of Labour laws and the changing trade environment in Vietnam were also discussed by the group.   A key element of Better Work Vietnam's support to the industry is in bridging the communications divide between suppliers and the government, particularly as Vietnam is close to signing a number of bilateral/multilateral trade deals which are likely to spur further changes to the labour law.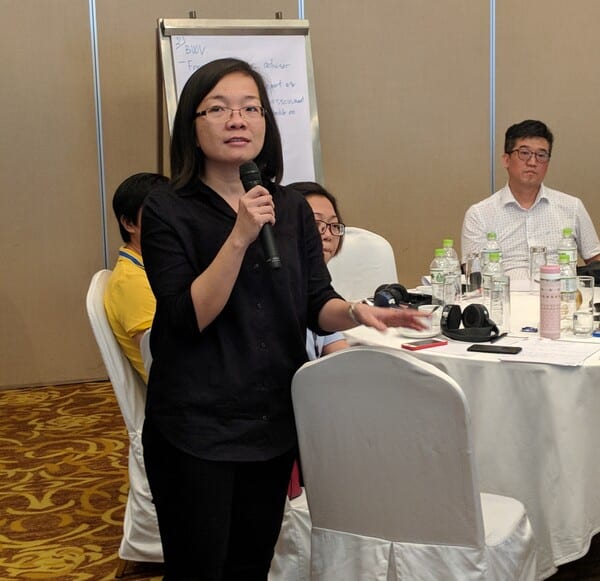 Kelly Tran, from Chutex Vietnam, a garment manufacturer, noted: "Being an enterprise, there are still some obstacles for us to work directly with the government, so we feel that an independent organization like Better Work can be the bridge between us and the government.  We encourage them to help us more in this area."
The workshop concluded with consideration of future steps for the industry. Kent Teh, Director of Esquel Group, drew encouragement from the Better Work-GAP collaboration: "My personal hope is that the efforts of Gap and Better Work help the industry to moves toward a more proactive stance on sustainability: that is, not just doing the bare minimum to meet the law but going beyond compliance."
William Lee, Senior Director for Global Sustainability at Gap Inc, concurred, stressing the importance of cross party collaboration and a spirit of openness in driving the industry's sustainability goals forward.  For businesses, he added, more investment is needed in worker engagement and welfare mechanisms, which help boost staff retention and build a more stable environment for business growth.
Gap Inc. has been a Better Work partner since the early days of the programme. They work with factories in Cambodia, Haiti, Jordan, Vietnam, Indonesia and Bangladesh and have been encouraging their suppliers to become more involved.  "At the beginning we joined the programme as a responsibility to our brands.  But later we began to realize the benefits of the advisory process, which focuses on both correction and prevention and finding systematic resolutions to our situation," said Tran.