1 November 2016.
New York – Making the Sustainable Development Goals a reality is a responsibility shared by the public and private sectors, a senior UN official has told a garment industry forum at the United Nations.
"The SDGs are a shared vision of humanity, a social contract between leaders and the society. As so, they need to be implemented in partnership. Business leaders are in a strong position to help making the SDGs a reality," said Thomas Gass, Assistant Secretary-General, United Nations Department of Economic and Social Affairs.
The meeting, the Better Work 2016 Business Forum, saw representatives of global brands and retailers, manufacturers, international organizations and other interested parties reaffirm their commitment to sustainable development and discuss their engagement with the United Nation's 2030 Agenda.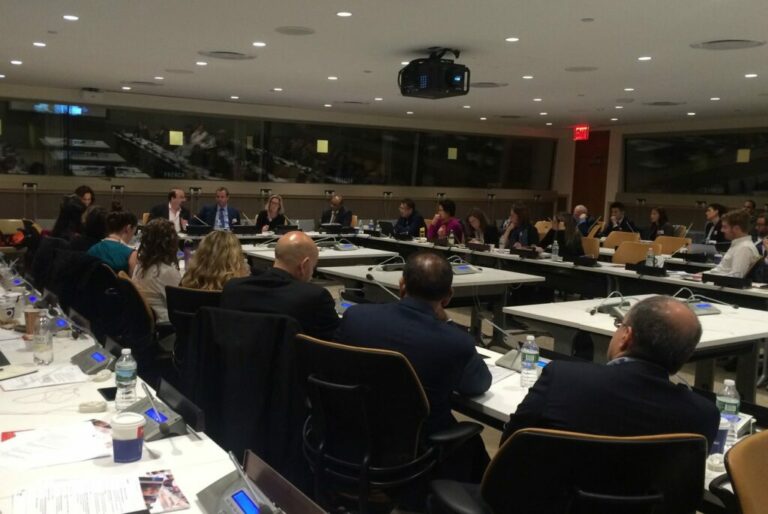 Better Work director, Dan Rees, highlighted recent findings from the five-year-long impact assessment study carried out by Tufts University on the programme: "The results are food for thought as we discuss our strategy for the next five years and figure out what is working and what it is that we can take to scale. The big story for companies is that improving working conditions is good for business".
See Progress and Potential – A focus on firm performance
Mary Porter Peschka, a member of the Better Work Management Committee and Director of Advisory Solutions at IFC, a member of the World Bank Group, discussed what IFC and the World Bank can do to bring the private and the public sector together to address sustainability challenges in the garment sector. She said that in Ethiopia, where the garment industry is emerging, the World Bank is working with the government to build a better business environment and get things right from the start. Earlier this year, IFC also started a garment sector project in Ethiopia aiming to increase local and foreign investment and, ultimately, boost export earnings, through targeted interventions along the supply chain.
She also related the example of Jordan, where IFC and the World Bank recently launched a $300 million Program for Results (P4R) project to support job creation for Jordanians and for refugees living in the country.  As part of this project, in 2017, Better Work—a joint partnership between ILO and IFC—will start to publicly report whether Jordanian garment factories comply with key labor standards. Peschka noted that "experience in other countries, where Better Work is active, has shown that increased transparency directly improves working conditions."
Also presenting at the forum was Michael Green, Executive Director at Social Progress Imperative, an index that measures "…social progress, not wealth": "What we did with the Millennium Development Goals [of the past] was to pluck the low hanging fruit; we made huge progress with issues like hunger. Now we-re facing harder questions. We see that all questions that the SGDs address are things that economic growth alone cannot address. We can't be complacent and think that business as usual will get us to the SDGs," Green said.
In a discussion on placing sustainable development at the centre of core business models, business leaders from Classic Fashion Apparel Industry Co. Ltd., MAS Active Pvt Ltd, PVH Corp and Target Corporation shared their experience of work in partnership to improve supply chains. Joe McGowan, Senior Vice President, Global Supply Chain at PVH Corp, talked about a culture shift in corporate social responsibility:  "Five years ago, we were working in terms of compliance. We had an audit and if we saw issues maybe that firm wouldn't get a contract the next time. Now we have moved beyond, tightening the number of suppliers to have more meaningful relationships. We want to help them develop their business", he said.
The forum also focused on updates in Better Work core services; the seven countries where Better Work currently operates (Bangladesh, Cambodia, Indonesia, Haiti, Jordan, Nicaragua and Vietnam) and prospective countries Myanmar and Ethiopia; and held discussions on the next five-year strategy for Better Work and how businesses can deepen their involvement in the programme.